Russian women unfazed by media reports on rape in India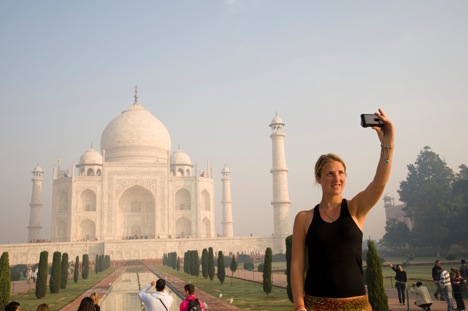 It's difficult to claim that there is some kind of greater threat for Russian women in India than in neighbouring countries. Source: Alamy/Legion Media
Women tourists from Russia have not been particularly frightened off by the threat of sexual violence in India.
While statistics have shown that the number of foreign women travellers to India has fallen, Russian women still seem eager to visit the country.
"Despite the fact that attempts have been made to attack Russian female tourists too, it hasn't affected the numbers visiting," says Yuri Barzykin, vice-president of the Russian Tourism Industry Union. "This area related to the level of demand. It can only collapse if there's a shortage of charter transport, not because of a lack of customers."
According to the Associated Chambers of Commerce and Industry in India, the last three months have seen a sharp reduction – by 35 percent – in the numbers of foreign female tourists visiting India. This has especially affected tourism from the EU countries and China. The reason lies in the extensive reporting by the international media of high-profile sex crimes committed recently in India. The series of scandals began with the gang rape and murder of a 23-year-old student on a bus in New Delhi in December 2012.
Russia's diplomatic mission in Delhi also noted that there are cases of attacks on Russian women.
"In the past tourism season five women with Russian nationality have lodged complaints in police departments, mainly in Goa, accusing Indian men of rape," said Vasily Pronin, head of the consular department at the Russian embassy in India.
According to him, none of the cases could be called "classic," since they concerned complaints by Russian women against Indians with whom they had previously either had relations or been living together. Comparing these figures with the equivalents for other countries in the Asian region, it's difficult to claim that there is some kind of greater threat for Russian women in India than in neighbouring countries. But Vasily Pronin says it's true that these statistics don't include various types of harassment in the streets which have not led to sexual violence.
According to the Russian Union of Tour Operators, Goa is the main beach destination for Russians in India. Last year 200,000 of our fellow citizens visited this Indian state, and by May of this year the figure for people taking charter flights had come close to 125,000. In 2012, the rest of India was visited by 109,000 Russian tourists.
Fall in tourist numbers to India
"So far the Indian authorities are talking more than acting. They've even promised to establish additional police posts at tourist sites and in resorts, which is where attacks on foreign female tourists and Indian women happen most often," says Praveen Sharma, who works for the Indian Institute of National Research and Social Welfare. "But the country still hasn't created a system to ensure sexually motivated crimes are always punished."
Sharma claims that the newly introduced system to ensure such cases are treated swiftly in the courts is not operating at the local level. Verdicts have not been given in the highest-profile cases. Thus one of the six men accused of raping the student in Delhi has committed suicide in strange circumstances. The others are resorting to various medical tricks and trying any way they can to delay the trial, citing poor health. The case concerning a sexual attack on a 39-year-old Swiss tourist during her bicycle trip across the country is in a similar state. Those detained have also not yet been brought before a court.
According to India's Ministry of Tourism, 6.6 million foreign tourists visited the country last year. This year, judging by the first five months, tourism has somewhat declined. But the reason for this was "not female tourists' fear of visiting India, so much as a reorientation to other Asian destinations, such as Malaysia and Thailand," claims Shailesh Kumar, head of the ministry's market research division.
First published in Russian in Izvestia.
All rights reserved by Rossiyskaya Gazeta.