Natasha From Russia makes for a popular mystery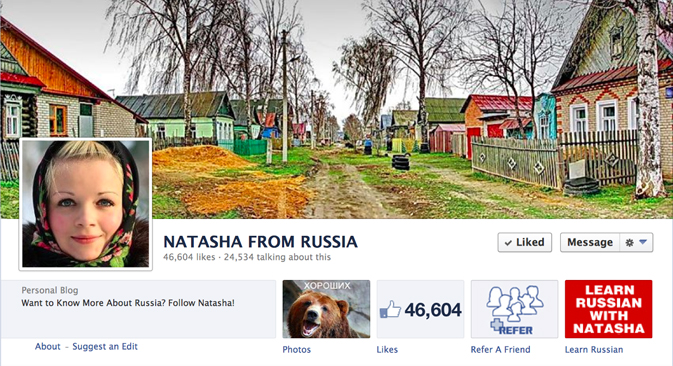 Natasha From Russia Facebook page scored over 45,000 likes. Source: Facebook / Natasha From Russia
A project started by a Russian girl who wishes to be identified simply by her screen-name Natasha – she confessed she does not want to disclose her real identity to maintain her "aura of mystery" – Natasha From Russia is today one of the most popular English-language pages dedicated to Russia on Facebook.
A kitten comfortably curled up inside a Kokhloma wooden bowl, two bears hugging, a breathtaking view of St. Petersburg – these are just a few of the images that one can find on the Natasha From Russia Facebook page.
With over 45,000 likes and a few lucrative online partnerships, Natasha has won over her followers with a light-hearted take on the land of bears and vodka – a take that does not shy away from saccharine images, kitschy ensembles and funny shots.
Yet, what may sound like a superficial approach is instead a cleverly devised strategy that focuses on the power of visual content and the emotional response of the users.
In this sense, Natasha From Russia perfectly embodies two specific traits of the Russian soul – sentimentalism and wonder. As she puts it: "You simply have to pick and publish interesting material and dedicate to the mission your heart and soul. That's the secret."
"The subjects that I choose to publish are quite varied, but a big component has a focus on nature, beautiful locations and touristic landmarks. The main source for the content is the Russian Internet. In my opinion, the success of any project on social media is highly dependent on visual content, and this is why I made a point of looking for beautiful images," Natasha says of the content she usually selects.
Facebook pages on Russia in English
The page was launched in December 2011, when Natasha noticed that there was no online community on Facebook dedicated to Russia that was truly popular and interesting. Coming up with a concept and a name was easy, but the development of the page required a lot of hard work.
"While I was creating and developing the page, I was sure that I could attract many fans, but achieving that turned out to be not so simple and quick. At first, I went through periods during which I would be tempted to give up, because it seemed to me that the audience was growing too slowly," Natasha says.
Then things started turning around, and she soon received the first partnership proposals from companies wishing to use her wide Facebook reach to promote their services.
So far she has collaborated with the likes of Nordic Travel, Baikal Nature, Territory RUS and In Your Pocket. Her partnership with Nordic Travel, a travel agency based in Russia, has been particularly prolific.
"We have been working together for half a year, and now I take care of the development of their Facebook page. I am open to establishing new partnerships and ready to work with any company whose activities are connected with the focus of my page, but I value the trust and love of my audience very much – I will never recommend to them services and products I am doubtful about," she says.
Her success has inspired her to expand her online presence even further. Even though she keeps her day job in addition to managing her page, Natasha was able to find the time to develop the "Learn Russia with Natasha" project – a special section within Facebook where she recommends Russian language teachers and organizes online tutorials.
The idea came to her after she received an overwhelming amount of requests for help from people learning the Russian language.
Now she is ready for a new adventure.
Revealing that she was born and raised in Volgograd, Moscow-based Natasha explains that she wants to bring her online success closer to home: "I have been thinking for a while about creating an online shop for souvenirs and handcrafted items from Volgograd. In my hometown, there are many creative people and small ateliers. I think that my fans would definitely like the arts and crafts produced in Volgograd."
All rights reserved by Rossiyskaya Gazeta.