RBTH project wins Renaissance Française medal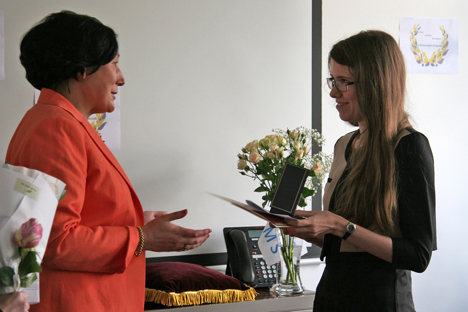 Zoya Arrignon, president of Renaissance Française's Russian delegation (L) awards the French project's editor-in-chief, Maria Afonina. Source: Tatiana Chramtchenko
The French-language project of RBTH, La Russie d'Aujourd'hui, has been honored with a La Renaissance Française medal. The awarding ceremony was attended by the ambassadors of France and Belgium to Russia.
The editorial board of La Russie d'Aujourd'hui, a Rossiyskaya Gazeta international project, has been honored with a La Renaissance Française bronze medal in the category "Francophonie." The award ceremony took place on Thursday, May 30, in Moscow and was attended by the ambassador of France to Russia, Jean de Gliniasty, and his Belgian counterpart, Guy Trouveroy.
The French project's editor-in-chief, Maria Afonina, received the medal from Zoya Arrignon, president of Renaissance Française's Russian delegation, and Arnaud Dubien, director at the Russo-French think-tank Observo (l'Observatoire franco-russe), gave a congratulatory speech.
In Dubien's words, "La Russia d'Aujourd'hui is a very successful media project," which owes its success to "original and unbiased coverage of developments in Russia."
"You truly do promote a deeper understanding in France and Belgium of Russia's day-to-day realities, thus strengthening the ties between our countries," Dubien said in summation.
Another La Renaissance Française bronze medal went to writer and translator Christine Zeytounian-Belous. The gold medal for cultural achievement was awarded to sculptor and president of the Russian Artists Union, Andrei Kovalchuk, and the Moscow Conservatoire. The Pushkin Museum of Fine Arts director, Irina Antonova, and the Normandie-Niemen 1st Fighter Regiment Veteran Association received gold medals from La Renaissance Française.
La Russie d'Aujourd'hui has been honored with a La Renaissance Française bronze medal. Source: Tatiana Chramtchenko
La Russie d'Aujourd'hui is the French-language arm of Russia Beyond the Headlines, Rossiyskaya Gazeta's international project, which consists of 16 supplements dedicated to Russia and published in 21 countries, as well as 17 websites. The project in French was launched about four years ago, for the purpose of informing Francophone audiences about various aspects of Russo-French and Russia-Europe relations in politics, business and art.
La Russie d'Aujourd'hui is published monthly as a newspaper supplement in France's Le Figaro and Belgium's Le Soir. The digital version of the edition is available on its daily-updated website, larussiedaujourdhui.fr.
All rights reserved by Rossiyskaya Gazeta.