Moscow cops join the city's bike initiative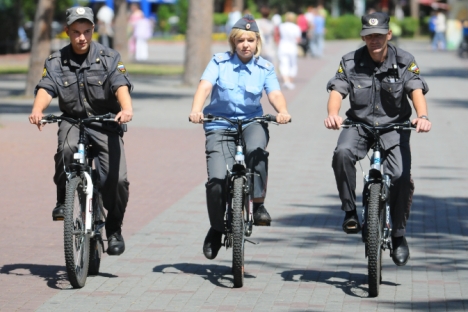 Moscow authorities decided to "bicyclize" the city's police to improve its efficiency. Source: ITAR-TASS
A bike-mounted police unit started operating in the southwest of Moscow in June.
The Moscow Police Department has not been left out of the City Council's initiative to "bicyclize" the Russian capital this summer. A bike-mounted police unit started operating in the southwest of the city in early June. So far, officers in full gear only patrol Bitsa Park, although more parks and other areas closed to cars are to follow suit shortly.
Velobike, a joint bicycle-sharing project of the Mayor's Office and the Bank of Moscow, started in Moscow on June 1, with bicycle rental racks appearing throughout the city. Just two weeks into the project, however, eight bikes have been stolen and around 20 vandalized, and users have complained about the complicated payment process (a credit card must be first registered at a special website).
Nevertheless, Moscow police support the authorities' plans to "bicyclize" the city, as RBC daily has learned.
"Bike-mounted officers are highly mobile, and response time is reduced substantially," said Dmitry Lazorenko, chief of a precinct serving Bitsa Forest Park. "Potential offenders will think twice before committing a crime. Park visitors will certainly feel safer – not to mention the officers, who will now be in good physical condition all the time."
The serial killer Alexander Pichushkin, who murdered 48 people in Bitsa Forest Park and was sentenced to life in prison in 2007, is known to have taken advantage of the fact that police only patrolled the vast park area on foot for years.
"While our officers patrol on motorcycles in Tsaritsyno, it's more convenient for them to operate on bicycles at Bitsa Forest Park," the Moscow Police Department's press service said.
The bicycle-mounted police are outfitted just like regular cops. They carry a GI gun, a flashlight, a radio and handcuffs at all times.
The Internal Affairs Division for Moscow's Southwest Administrative District has only eight bikes so far. "Other beat policemen are expected to receive two-wheeled transportation soon," said district spokesperson Yulia Anosova. "They will patrol other parks, public gardens and yards where cars are prohibited."
According to Anosova, southwest Moscow will not be the only area patrolled by bike-mounted police. "We are talking about the whole of Moscow; the city's police department has already discussed this idea," she said.
The article is first published in Russian in RBC Daily.
All rights reserved by Rossiyskaya Gazeta.