Sakhalin's indigenous languages under threat of extinction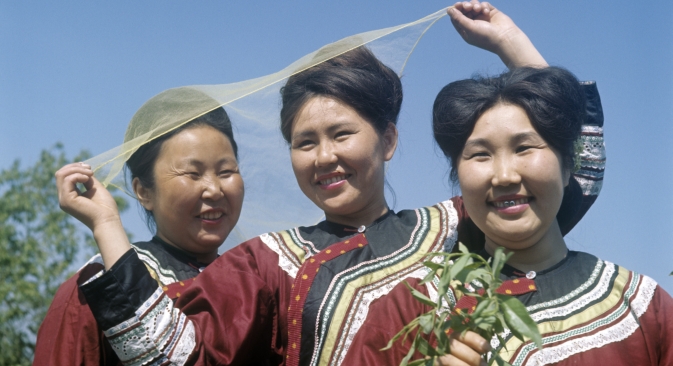 The languages of small indigenous people in Sakhalin are at risk of extinction. Pictured: Members of an amateur folklore ensemble, workers at the Druzhba fishing collective farm. Source: RIA Novosti
Russian scientists have been taking measures to avoid the indigenous language falling off the map: They plan to organize seminars for teachers of national languages and tell them about intensive language learning techniques.
The languages of the indigenous peoples of Sakhalin are in in danger of becoming extinct, according to SakhalinMedia.ru, a local media outlet.
"The situation with the languages of the indigenous peoples is pretty much hopeless," Dmitry Funk, head of the Department of Northern and Siberian Studies at the Russian Academy of Sciences, told SakhalinMedia.ru
According to him, there are currently around 6,000 languages in the world today.
"And all signs point to the fact that about 90 percent of those languages will disappear within the next 100 years or so, whether we like it or not. It's difficult to say what will happen to the languages of Sakhalin. But, judging by the rate they are disappearing, it's not looking good."
Funk mentioned the fact that the Uilta (Orok) language, for which a reader was published recently, may soon die out altogether. He also noted that there are only two rather elderly people who use the language on a regular basis. Both are women. One of them lives in Val, but is planning to move soon. The other lives in Nogliki and plans to move to Siberia in about three years.
An elderly woman, the representative of the small indeginous people in the town of Okha on Sakhalin. Source: PhotoXPress
In the northern groups, a maximum of up to 10 people are fluent in the language. The northern and southern groups in Poronaisk are small.
According to Funk, measures are being taken to avoid the language falling off the map. One such method is to organize seminars for teachers of national languages and tell them about intensive language learning techniques.
Funk pointed out that these languages have become foreign to the majority of the population and should be treated as any other foreign language.
This year, textbooks have been printed in the Shor and Teleut languages for adults.
Currently, about 250 languages are spoken in Russia, including Russian, which is spoken by some 150 million people. Russian, along with several Turkic-based languages, is doing fine. However, the linguistic situation for many lost tribes and Small Indigenous People in Russia is far more uncertain.
It remains to be seen whether Russian scientists will be able to tackle the threat of the ectintion of the indigenous languages.
The story is based on materials from Gazeta.ru and Russia Beyond The Headlines.
All rights reserved by Rossiyskaya Gazeta.