Circus artists resist modernization attempts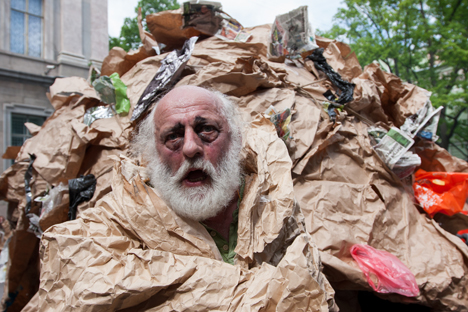 Head of the Circus on Fontanka Vyacheslav Polunin during a street performance. Source: RIA Novosti
St Petersburg State Circus artists appeal to the Russian president to sack their director, world-famous clown and mime Vyacheslav Polunin, who they accuse of trying to create a circus similar to Cirque du Soleil.
One hundred performers from the St. Petersburg State Circus on Fontanka have put their names on an open letter to Vladimir Putin, accusing the head of the circus – world-famous clown and mime Vyacheslav Polunin – of voluntarism, knowing nothing about the business as a whole and destroying Russian circus traditions.
They are demanding that a new artistic director be appointed on the basis of an open competition.
The letter, which was posted on the RusCircus website, says that Polunin came to the job in January 2013 and promised to bring positive changes. However, in the six months since he took charge, performers say it has become clear that he is leading the circus to destruction.
The performers believe that Polunin is trying to create a circus similar to Cirque du Soleil – that is, a commercial enterprise that is geared exclusively toward an adult audience, in stark contrast to Russian circus traditions.
Russian clown and performing artist Slava Polunin shares his own path to finding a unique artistic image. Source: YouTube
Polunin has already responded to the accusations, in a letter circulated by St. Petersburg media that states he is looking for new ways to develop the circus and has no intention of destroying it.
"The only way for Russia to return to the forefront of circus arts is to combine tradition with the search for new ideas," says Polunin.
At the same time, he realizes that many of his performers cannot adapt to the new conditions, and they are fiercely opposed to any attempts to modernize the circus.
Yet modernization, according to Polunin, is a necessary and inevitable process that should take the St. Petersburg circus to an entirely new level and bring audiences that had long since stopped going to the circus back to their performances.
"We will certainly go over all the available facts to discern whether any laws have been broken," Sofia Apfelbaum , head of the Department for the State Support of Art and Folk Crafts, told Gazeta.ru.
According to her, there is nothing illegal about making changes to a company's philosophy or structure, or performing repair works: "That is the prerogative of the artistic director."
First published in Russian in Gazeta.ru.
All rights reserved by Rossiyskaya Gazeta.