On June 19, U.S. Ambassador Michael McFaul welcomed new Russian exchange students and alumni of U.S. State Department programs to his Moscow residence, Spaso House.
"This is a remarkable achievement," McFaul told the students. "All these programs are extremely competitive and you have now a great opportunity in terms of academic dream. You are the most talented people in Russia, and that's the reason I congratulated you as a professor who values education."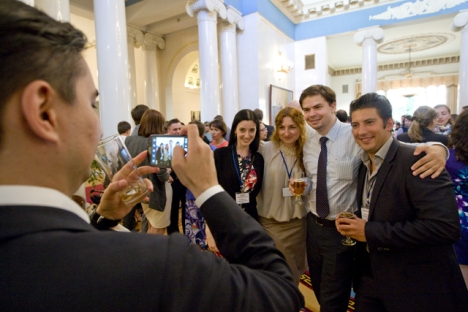 The exchange students and alumni at the Moscow residence of U.S. Ambassador Michael McFaul - Spaso House. Source: U.S. Embassy / Michael McFaul's blog
According to McFaul, it is in the national interests of both the U.S. and Russia to step up bilateral educational exchange. "If our societies are better connected and our societies better know each other, that will make better relations between the United States and Russia," said McFaul. "I am a firm believer in the importance of exchanges from a national security perspective, from intellectual perspective and from individual perspective."
McFaul is himself an alumnus of several educational exchange programs between Russia and the U.S. He studied at Leningrad State University and the Pushkin State University of Russian Language before becoming a Fulbright scholar.
"It totally changed my life," he said, speaking in Russian. "For me, these exchanges changed my view of Russia and mostly changed my view of Russians. This is the most important. And also it changed my view of my own country," he added, switching to English.
Joel Ericson, Director of the Fulbright Program in Russia, agrees that student exchanges "are extremely important."
"It's the best way to create the situation where we can understand each other," said Ericson, who studied at Leningrad State University as part of an exchange program in 1987. "When you understand one another, you can see that opportunities make progress despite disagreements. Exchange programs are becoming so well-developed now and so recognized as being important for national understanding."
Anastasia Osminina, 21, an alumna of the U.S.-government FLEX program for high-school students studied at a school in Missouri during the 2007-2008 school year.
She said that the FLEX program helped her to develop different aspects of her personality and discover new talents.
"America gave me a lot of opportunities and choices that developed my talents and increase my interest in sport and, particularly, swimming," Osminina said. She now gives swimming lessons to children.
For Osminina, although adjusting to life in the U.S. was difficult at first, a bigger challenge was coming home to the central Russian town of Vologda.
"I experienced a cultural shock when I learned some American traditions and lifestyle. For example, the fact that some Americans wear flip-flops in winter surprised me. Likewise, a reverse cultural shock may amaze you when you have to adjust to the Russian life after all 'amenities' in the U.S."
At the Spaso House event, Osminina introduced a project, Russia Connect, intended to bring together alumni of the U.S. educational programs from all over Russia.
"Alumni of one exchange program, for example FLEX, know each other very well but they are not familiar with their counterparts from different programs like Fulbright, for example," she said. The Russia Connect project aims to solve this problem and give alumni a forum to share their experience as well as find ways to work together.
David Petrosyan, 19, a second-year student at the Higher School of Economics majoring in politics and government, also traveled to the U.S. as a FLEX exchange student and helps organize events for participants of U.S. exchange programs.
"I studied in Kentucky one year," Petrosyan said. "It was pretty interesting and a bit strange experience: I lived in a very religious family and studied in a private Christian school that spurred my keen interested in religion."
He started studying the role of religion in society, psychology and social science after his experience in the U.S. "I am not religious, but I wanted to learn some aspects of religion and what impact it had on [the] human mind and political culture," he said.
Although there are many programs for educational exchange between Russia and the U.S, supporters of the process believe much remains to be done, particularly given the recent problems Russian students had obtaining visas to the U.S. and budget cuts for educational exchange on the U.S. side.
"We can step up educational and cultural exchange through direct agreements between [Russian and American] universities," said Ericson. "That's one way we can make them cheaper. Another way to resolve the problem is through the Internet. Distance learning programs are very helpful. Part of your education may be a distance learning program that could cut costs as well."
Ericson believes that the role of both Russian and American governments should increase in the near future. In his opinion, studying abroad often inspires participants to come home and look for ways to improve their own countries.
All rights reserved by Rossiyskaya Gazeta.