Dementieva: Sharapova, Williams favorites for Wimbledon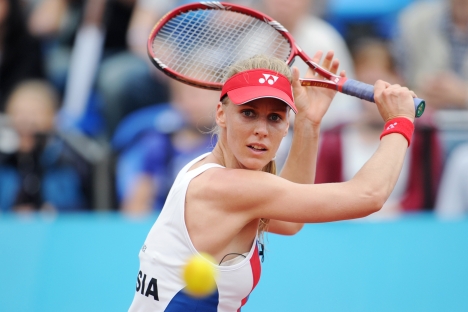 Elena Dementieva on the Wimbledon favourites: "I think that Serena and Sharapova will be up there again." Source: RIA Novosti / Grigory Sysoev
One of Russia's most prominent tennis Elena Dementieva shares her thoughts on the Wimbledon Tennis Competition that have started on Monday.
One of Russia's most decorated athletes – 2004 French and U.S. Open finalist, 2008 Australian Open semifinalist, two-time Wimbledon semifinalist (in 2008 and 2009) and 2008 Olympic gold medalist – Elena Dementieva shares her thoughts on the Wimbledon Tennis Competition that has started on June 24 and will go through July 7.
Rossiyskaya Gazeta: We watched the final in Paris between Russia's Maria Sharapova and Serena Williams from the United States, and, I've got to tell you, it didn't look much like a "slow" surface to us. The ball was whizzing around at some crazy, astronomical speeds –especially Serena's shots.
Elena Dementieva: That's the exact same impression that I got. But I wouldn't say that Maria's shots were weaker – they were pretty "astronomical" as well. But Serena was more consistent, aggressive and focused.
RG: Some people think that Serena gets particularly fired up for her matches with Sharapova. They say she's vulnerable when she faces opponents that are neither particularly strong nor complete pushovers. She almost lost to Svetlana Kuznetsova, after all.
E.D.: No, I don't think you're right about Kuznetsova. She's a great player. She's got a lot of weapons and manages to make the ball spin in uncomfortable ways – I'm telling you from my own experience playing her. Serena was scared of losing and really gave it her all. I think that match was one of the highlights at this year's French Open.
RG: I've even heard people say that Serena's domination of Sharapova has something to do with politics. She can lose to anybody, but not Sharapova – not a Russian. If she loses, then it's to another American. She lost to Stevens, for example.
E.D.: That's just nonsense – made-up rubbish. I've got the utmost respect for Serena Williams as an athlete. And wasn't it the Russian Ekaterina Makarova who beat her at the Australian Open last year? And I'm interested to see how long this win streak that she's currently on will last.
RG: And Serena's not particularly bothered about what surface she plays on – clay, grass, hard court – it really is all the same to her.
E.D.: When you're talking about the best tennis players in the world, nothing is impossible. They're good enough to play on any court under any conditions.
RG: Before, nobody could have imagined that the man who had established himself as the "King of Clay" could adapt his game to grass, or that Sharapova could win on clay...
E.D.: They can do it all. Sharapova tweaked her training accordingly, so that her clay game would improve. But I don't think she alters her game. Her gameplan is always to hit the ball hard, and that's what she does. Sharapova doesn't need to change her game going from Roland Garros to Wimbledon. That's where her strength – and the strength of all the greats – lies.
RG: A curious, even quite amusing, thing happened at a tournament recently. A Spanish player – I think it was Medina Garrigues – was rubbing the balls against her racket to make them fluffy and, thus, travel more slowly after Serena hit them. Have you ever seen anything like that?
E.D.: Never! It looks like they thought up this kind of "antidote" to Serena. But seriously, they might introduce something new in the future to make the balls travel more slowly – heavier balls, for example, or getting rid of second serves.
RG: So who do you think is the favorite to win Wimbledon?
E.D.: That's a tough question, but I think that Serena and Sharapova will be up there again. The Belarusian player Victoria Azarenko is also looking good right now, although, funnily enough, she's not that great on grass. Those are the three players that stand out – although the Pole Agnieszka Radwańska might have something to say about that.
The interview is first published in Russian in Rossiyskaya Gazeta.
All rights reserved by Rossiyskaya Gazeta.