Government eager to promote religious tolerance in Russia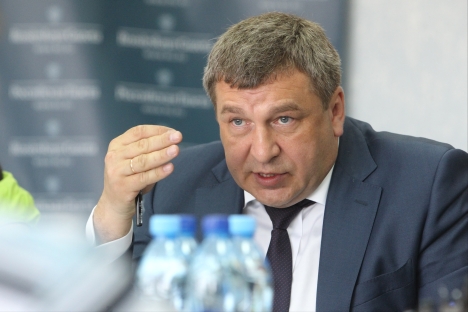 Igor Slyunyaev: "We have to learn how to listen and to hear — that's what our society is lacking right now". Source: Viktor Vasenin / Rossiyskaya Gazeta
Moscow's Jewish Museum might serve as the template for a national network of tolerance centers.
Russia's minister of regional development, Igor Slyunyaev, announced at a Rossiyskaya Gazeta business breakfast that his agency is prepared to look into projects helping to promote tolerance and ease inter-ethnic tensions.
He noted that a proposal by the Jewish Museum and Tolerance Center to set up similar institutions across the country might be one way to achieve this.
Building inter-ethnic ties has always been on the Regional Development Ministry's agenda. That includes organizing exhibitions and concerts, publishing literature and holding seminars educating Russians in the cultures of the various peoples of this country.
The opening of museums — or, more precisely, centers of tolerance — is totally in line with this development logic, Igor Slyunyaev explained.
"We are a multi-ethnic nation with an extremely rich history and culture. Our country has followed an incredible development path. We have to learn how to listen and to hear — that's what our society is lacking right now," the minister said.
Yet such centers are far from the only possible tool for building interethnic relations.
"For instance, our agency is in charge of inter-ethnic relations, but nobody is actually in charge of interfaith relations. We can only support initiatives put forward by the Orthodox Church, Buddhists, or Muslims," said Slyunyaev.
"Such a center could accomplish this mission, too, but we are prepared to hear other proposals and carry out some other projects," he said, adding that 1.5 billion rubles ($45.6 million) might be spent on this endeavor. According to the minister, this is not a large amount.
The Jewish Museum and Center of Tolerance. Source: RussiaNowTV
As for the Jewish Museum, it recently opened in a former building of the Garazh cultural center in Moscow. It is a unique place indeed. It contains photos, videos and cinematic materials presented to visitors in unconventional ways.
Besides a cinema, it hosts interactive displays dedicated to Jewish emigration, a future memorial site and artifacts of Jewish community life. All of the displays have been designed to evoke an emotional response to the events described in accompanying documents and statistical data.
Establishing a network of such centers would not come cheaply, and Slyunyaev was certainly right in calling 1.5 billion rubles a small sum. He added that finding premises for tolerance centers should not be a problem: The most important thing is to develop quality concepts and fill the space with relevant content.
Each such center would also need a website and subsequent information support. To draw a parallel with the Jewish Museum, future tolerance centers should hold lectures and educational events. Among other things, for example, the museum organizes thematic city tours using its archive materials.
According to the Garazh cultural center director, Anton Belov, while educational clusters at any level are a very good idea, people capable of implementing them are very few and far between.
He also noted that it is often a more effective approach to the educational process to issue grants, rather than establish brick-and-mortar centers. This presents more opportunities for better evaluating the future site and reduces the chances of coming up with something unworkable.
All rights reserved by Rossiyskaya Gazeta.