Russia to spend billions to help recovering addicts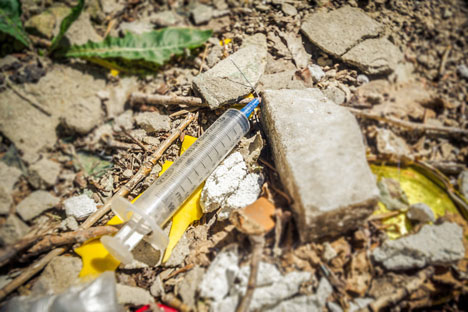 The Federal Narcotics Turnover Control Service statistics put the number of the nation's drug addicts at 7-8 million, of whom some 600,000 are officially registered. Source: Kommersant
A nationwide rehabilitation system for drug addicts may be established in Russia for the first time. The government will seek help from private clinics and public organizations.
The Federal Narcotics Turnover Control Service (FSKN) has admitted that the state is facing an uphill battle against drug addiction and is planning to enlist help from private rehab centers. FSKN has requested a record 180 billion rubles ($5.4 billion) for the program.
Russia's state-owned, specialized rehabilitation clinics have only 1,730 beds. Meanwhile, FSKN statistics put the number of the nation's drug addicts at 7-8 million, of whom some 600,000 are officially registered.
The central idea behind the national rehabilitation system is to involve private institutions in treating addicts, because the state lacks the requisite resources. Almost 180 billion rubles ($5.4 billion) has been requested for the program.
Around 500 organizations capable of accepting up to 20,000 patients can count on public cash, including faith-based centers, private clinics providing paid services, and public organizations.
The money is supposed to reach addicts via special rehabilitation certificates. To obtain one, a potential program participant will have to sign a contract with an FSKN-certified rehab center and a state authority responsible for patronage (such as a social service agency or the police).
State-sponsored rehabilitation will be possible not only on a voluntary basis but also as a compulsory measure—i.e., as an alternative to administrative punishment.
People who agree to participate in the state-sponsored rehabilitation program will be entered into special databases accessible to law enforcement and other government agencies. In addition, as part of the program, drug use-related psychiatric and behavioral disorders are expected to be added to the schedule of socially important and dangerous diseases; this would place drug addiction on an equal footing with plague, cholera and anthrax. Under the Law on Healthcare, this would also authorize disclosure of medical records without patients' consent.
FSKN has stated that the program has been cleared with all concerned agencies—the Healthcare Ministry, above all—and will imminently arrive at the Presidential Executive Office for clearance. It will need to be signed by the president in order to become valid.
Experts had reservations about FSKN's program. Alexander Savitsky, a psychologist and rehabilitation expert, believes FSKN has no criteria for certifying rehab centers, so "people that are far removed from medicine" might end up receiving the public money. "There are Holy Spirit Orthodox Brotherhood centers or scientology centers that preach their teachings instead of providing medical care," said Savitsky.
Oleg Zykov, president of the No to Alcoholism and Drug Addiction foundation and a member of the Civic Chamber, doubts that the funds will be used effectively. "There are grounds for believing that, at the local level, the money could flow into the accounts of entities affiliated with FSKN employees, since local anti-drug committees would be responsible for allocating the money," he said.
According to Zykov, "Whenever the prospect of government grants arises, a lot of eager recipients appear—far from all of them acting in good faith."
First published in Russian in Kommersant.
All rights reserved by Rossiyskaya Gazeta.