Unscheduled troop inspections reach the Far East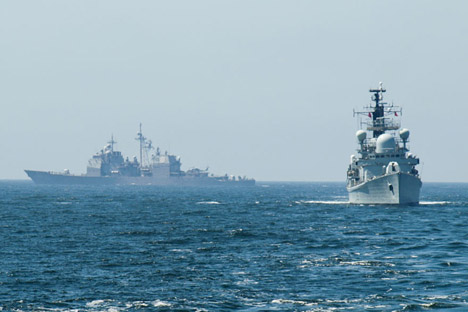 More than 80,000 personnel, around 1,000 tanks and armored vehicles, 130 long-range, fighter, bombing and army planes and helicopters, as well as 70 naval ships and vessels, are involved. Source: Mil.ru
At midnight on July 13, President Vladimir Putin ordered a challenge inspection of all troops in the Eastern Military disctrict.
On Saturday July 13, the troops of the Eastern Military District were put on alert for the next week for challenge inspections. These exercises are being performed in the wake of recent military inspections that showed a series of delays in reaction time and overall preparedness in the central military district.
The Russian Defense Ministry press service announced that more than 80,000 personnel, around 1,000 tanks and armored vehicles, 130 long-range, fighter, bombing and army planes and helicopters, as well as 70 naval ships and vessels, are involved.
The Eastern Military District is several times the size of France, stretching from Lake Baikal to the Pacific, as well as from the North Korean border to the Arctic Ocean.
They have all been put on alert by the orders of President and Supreme Commander in Chief Vladimir Putin. During a visit to Kursk on July 12, Putin ordered Russia's Defense Minister Gen. Shoigu to conduct a challenge inspection of the Eastern Military District.
Similar inspections of the Western, Southern and Central Military Districts have already been carried out.
Some of the Eastern Military District's units will be moved by air, rail and sea over a distance of 1,860 miles, while the "enemy" will be played by the units of the Central Military District (its area stretches from the Volga River to Lake Baikal)—specifically by the Novosibirsk Combined Arms army, with attached fighter and bombing aviation.
All leave for officers, non-commissioned officers (NCO) and other members of the armed forces under contract has been canceled, and conscripted soldiers and sergeants are not allowed furlough. Ammunition has been put into tanks, armored vehicles, self-propelled guns, anti-aircraft missiles and tactical missile launchers.
All this hardware, along with personnel, has been moved out of military parks to areas of concentration, taken assigned positions, camouflaged themselves while awaiting further orders. Fighters and bombers have left their airfields and are waiting for orders at standby airfields. Pacific Fleet ships have been put to sea.
The inspection will also involve maneuvers by Pacific Fleet surface ships and submarines, marines and other troops.
Russia is not poised for conflict or showing military muscle, military insiders and observers stressed. The maneuvers are important to overall readiness experts added. Russia's neighbors and partners have been informed of the inspection.
Sudden alerts for troops are the most effective way of testing real combat readiness, as well as commanders' ability to control their units and solve combat tasks that crop up.
Surprise inspection of the Central Military District and some Airborne Troops units (the first in the last 20 or so years) in February revealed that some units were unable to deploy their fighting vehicles.
Some of them—notably those recently repaired at defense industry enterprises—became stuck halfway. Some units did not even receive the alarm signal from Moscow, because the officers on duty slept through it. The phone call from the Russian capital to the 201st military base stationed in Tajikistan never came through.
It turned out that telephone communications with the Russian base were organized through the Republic's Communications Ministry, which was not overly concerned about its stability and accuracy.
The inspection of the Southern Military District also revealed shortcomings in the way communications and control were organized, as the president noted during his meeting with the defense minister. Similar issues were found during the inspection of the Western Military Districts.
This is not to say that all the shortcomings of the military reform will be eliminated by means of unscheduled inspections alone, observers said. Modernization and development of the armed forces is proceeding in line with a detailed plan up to the year 2020.
The military stated that 1,700 checks of combat readiness are to be carried out. The alert in the Eastern Military District is just one of them.
There will also be a major operational-strategic exercise—West-2013—in Russia and Belarus in September, as well as launches of strategic land and sea missiles.
Long-range aviation will fly across the Atlantic and the Pacific, and all four fleets will approach the Mediterranean, the Atlantic, Pacific and Indian oceans.
All rights reserved by Rossiyskaya Gazeta.