Can one be gay and live a normal life in Russia today? "It's possible, but only if you make compromises," says Yana Mandrykina, a 35-year-old partner in a real-estate agency.
"You have to hide your sexual orientation from your friends and family, and pretend to be somebody you are not. For some people, that goes as far as a sham marriage," she says.
Everything about Yana indicates a strong character with boundless energy. Smiling and relaxed, she considers herself successful in business and in her social life. She rejects any idea of a "handicap."
"My homosexuality has never prevented me from doing what I wanted to do — not me, nor my friends," says Yana. "I would say that I have a circle of acquaintances of around 700 people. All of them are very well-adapted socially. They are successful in society and in their jobs, and they are high earners."
What Yana and her friends have in common are specific human qualities, but also, perhaps, the rejection of an intolerant, or simply ill-informed, section of the population.
"Thanks to, or perhaps because of, our difference, we have acquired the ability to defend ourselves, to conceal ourselves, to fight," she says in a confident tone, admitting a personal interest in the study of psychology.
This is contrary to the stereotype of the frail and passive homosexual. Are Russian gays "fighters"? Some admit their homosexuality, others hide it.
Like many of her friends, Yana comes from the provinces and has created her own position in the Russian capital. This has involved a lot of effort and tireless work.
"I come from Tver [124 miles north of Moscow]," she says. "Obviously, it is easier to live freely in a big city like Moscow than in a small provincial town where everybody knows each other."
Yana claims that there is a large homosexual community in the capital that enjoys leisure activities, has meeting places and organizes social events. "There is plenty to do, ranging from beer and brawling nights to laid-back, romantic evenings," she says jokingly.
According to Yana, St. Petersburg — Russia's "second city" — has an even more developed social life than that of the capital.
"In the 2000s, we did not consider becoming activists or campaigning to defend homosexual rights," Yana says. "We devoted ourselves entirely to being successful in our careers. We wanted, above all, to benefit from our youth and freedom."
Why say it out loud?
Last March, Yana decided to abandon her anonymity. She "came out of the closet" at the same time as some 30 or so other gay men and lesbians.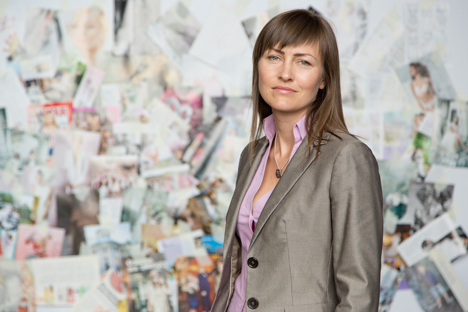 Yana Mandrykina: "More of us need to come out of the closet". Source : archives personnelles
All of them openly declared their sexual orientation in Afisha magazine (a sort of Muscovite equivalent of Inrocks). This was an act of protest against the wave of homophobia, which they claim is sweeping the country.
It was not an easy decision to make. "I was very frightened of revealing my orientation," Yana says in admission.
"As individuals, we were all frightened of rejection. I waited 35 years to get to this point. Up until then, my parents didn't know. For my father, an air force pilot, homosexuality was taboo."
Yana believes that only half her homosexual friends revealed their proclivities to their parents. She was one of a minority of homosexuals who decided to fight for their rights.
"More of us need to come out of the closet," says Yana. At the same time, she admits that she fears for her safety. "I am frightened that some thug will attack me in the street. Homophobes do not hesitate to beat up women."
According to Yana, it is not only homosexuals who are targeted by what she defines as the government's shift toward ultra-conservatism. "All the minorities are targeted — anyone who is different from the rest."
To live happily, let's live in hiding!
Twenty-five-year-old Dmitry, who has the physique of an Adonis and a high-pitched voice, sees things differently. "My motto is, 'Let's live well — that is, live hidden!' Only my mother knows my orientation. And my friends, of course."
Do his affected gestures give him away? "Perhaps a few of my work colleagues have an inkling [Dmitry works for the Sochi Olympic Organising Committee], perhaps they whisper behind my back, but nothing more than that. I take precautions. And if I am sacked, it won't be hard to find a job elsewhere. In any case, I'm going to start working for myself soon," says Dmitry.
"I'm pretty resourceful by nature, and I have lots of contacts. For example: married men in the upper echelons of the administration!" Dmitry says, bursting into laughter.
Dmitry is not particularly interested in political activism and does not feel very worried about the new law banning homosexual propaganda. "It won't change anything for me. I am against the 'gay parade': It just brings out the population more strongly against us. The less it's talked about the better."
Dmitry often travels abroad on holiday or on business. He is perfectly aware of the different mentality in the West, but he has no desire to emigrate.
"I earn a good living in Moscow, and my lifestyle is no different from that of French or British homosexuals. Even over there, you sometimes need to be careful and avoid certain neighborhoods. Homophobia exists everywhere!"
All rights reserved by Rossiyskaya Gazeta.