Why young Russians are leaving the country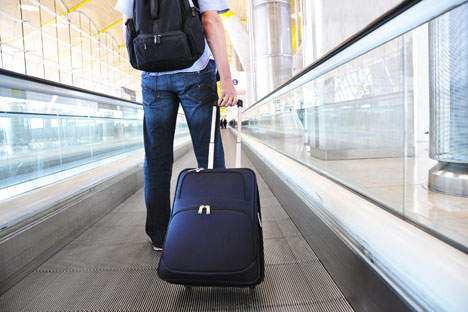 Experts feel that people have become more relaxed about moving because these movements are more like stages in life and not like irreversible changes. Source: ShutterStock
Russians have become more relaxed about emigration — yet contrasting opinions still exist. While some people are willing to abandon their native country in search of a better life, others find it difficult to think of leaving their families and friends behind.
Almost 50 percent of Russians think that moving to another country is admissible but only 13 percent, mostly young people, are really ready to emigrate, according to Russian Public Opinion Research Center (WCIOM). The Russians who leave to live abroad are sure they will enjoy stability and a better environment, while those who choose to stay cannot part with their culture and close ones.
Elena Kurepina, a bank worker, 28, has a university degree and is fluent in English. She is not overly patriotic — she's rather think of herself as a pragmatist. She does not want to leave Russia. "I like living in Russia", says the Muscovite.
"I like being able to meet my parents, not over Skype and not once a year, but whenever I want. Here I have my friends, a decent job, and catch phrases from favourite films that, for some reason, cease to be funny when translated into another language."
She is sure that, while going abroad in search of a better future is possible, there are more opportunities in Russia. "A friend of mine studied law at Stanford for two years. When he came back, I asked him why he did not stay to work as a lawyer in America, which had always been his dream. He replied: 'Imagine a talented lawyer coming to Moscow from Tajikistan'." Elena sounds ironic.
"It so happened that three people close to me left the country this year. I do not blame them; each had their own reasons for doing so. I am sure they will come back. They will look around and find that problems are the same everywhere (discontent with government policy, economic crises, illegal immigrants...) and they will come back. Because, in spite of everything, there is no place like home."
Culture and meetings with friends did not, however, deter Irina Kuznetsova from leaving. She left for Madrid earlier this year and is sure she will have much more opportunities for growth in Spain than in home country.
"Here they value educated people more and respect those who work hard. Here I meet more people I like. You will never find the perfect place for you to live. But here in Spain you feel more secure for your future. No one feels abandoned. The state needs its people. It's funny how even those who complain end up saying that they would never leave their country. There are enough jobs in spite of the crisis. For example, Spaniards think it beneath them to work as waiters, receptionists or taxi drives", Irina explains.
She is sure she is no more needed in Spain than in Russia. The newly-baked Spaniard cares only about family bonds. "You should not be afraid and think: 'Who needs me there?' That is a Soviet attitude still typical of the mentality of people in the post-Soviet space. Such questions do not occur to anyone in the rest of the world."
What she likes most about Spain is the environment: clean air and water, and a comfortable climate. "I would not go back to Moscow even if they promised me a 20,000-euro-a-month job. You cannot exchange the comfort here for the frenetic pace of life in Moscow, where I have always felt poorly because of the cold. You should enjoy life and feel positive day in, day out. That is more precious than money", she concludes.
Oleg is a true patriot but he thinks one should not hold it against people if they are looking for a better life. "Some of our fellow citizens are used to thinking that life in Russia is bad. I used to think that life in Europe was better, of better quality and more cultured. But I did not find a dreamland there. The Baltic countries are a good example. OK, they got their independence, but what next? They still grumble about everything like they did before", says Oleg.
Even though he would never is country, he does not condemn those who do: "Many people are restless and cannot sit in one place; they need to develop, to discover new things... Such people are useful for their country; they are exposed to new experience and then they introduce it into this country."
"The conventional wisdom is that one does not choose one's homeland. I disagree. But one has to get one's priorities right not to be disappointed," Oleg sums up.
The majority of the Russian respondents in the WCIOM poll (85 percent) do not want to leave their country. Patriots are more likely to be in the over 45 age bracket, while young people under 25 are more willing to leave.
Experts feel that people have become more relaxed about moving because these movements are more like stages in life and not like irreversible changes. The attitude of Russians to emigration has changed over the past few years.
While five years ago more than half of the respondents thought that leaving their native country was wrong and unpatriotic (58 percent) and a little over a third (37 percent) thought it admissible, today opinions are divided almost equally — 46 percent and 48 percent respectively.
Sociologists have found that people who wish to leave the country usually have no idea of what they will be doing once they leave. The main motive for migrating is the search for a better life (56 percent), followed by the hope to get more opportunities to fulfil their potential (21 percent). Another important reason for leaving, according to would-be emigrants, is that "there is more order."
All rights reserved by Rossiyskaya Gazeta.