Russians put career before having a family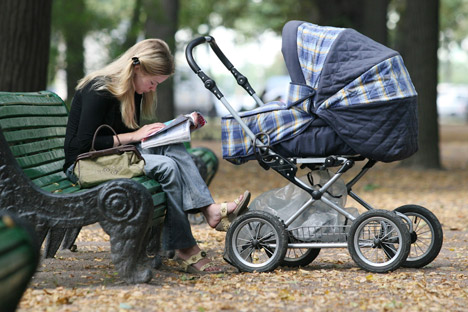 According a Superjob poll, a third of Russian citizens believe that raising a family is incompatible with a successful career. Source: PhotoXPress
A third of Russians think raising children gets in the way of having a successful career. People younger than 24 years of age are putting career before family, a poll by major recruiting web portal Superjob showed. Experts are not surprised and believe the trend is natural.
According a Superjob poll, a third of Russian citizens believe that raising a family is incompatible with a successful career. Those under the age of 24 put career first and family second.
The poll was conducted among economically active Russians of the age 18 and older. The respondents were asked: "When is a woman more likely to have a successful career, before or after having a baby?" Most respondents (31 percent) were confident that a woman would find it much harder to accomplish a career after having a baby.
A preponderance of young respondents (42 percent) chose this answer — several times more than people of the older generation. At the same time, more than a third (38 percent) of respondents over the age of 45 believed that "having children has no effect on a woman's career." The web portal's experts noted that older respondents believed career and family "are not related to each other."
On the other hand, a number of respondents (22 percent) said a woman's career could really take off after she has a baby. Many of those polled explained that having a baby motivates a woman to make more money. A third of those polled (33 percent) did not see any link between a career and children and believe that everything depends on the environment and availability of support.
The poll revealed a shifting, age-driven dynamic in Russians' attitudes. A majority (42 percent) of those younger than 24 years of age dream of a successful career, which children can only derail. The percentage declines (35 percent) among those in the 25–34 age bracket, who believe a career must be established before children arrive.
Only 27 percent of the respondents between the ages of 35 and 44 think this way — a percentage that shrinks to 26 percent for those over the age of 45.
Elena Balashova, a lead researcher at Moscow State University's Department of Psychology, agrees that there is a tendency to put having a career first. "People have started treating careers in a totally different way," the expert said.
"That's because professional growth opportunities have increased from what they were 30 or 40 years ago. There are opportunities for very serious financial gains, working abroad, or travel."
"While, in the past, we used to observe career-driven motivation among men, now there's a spike in career motivation among women," said Balashova. She added that, even among her acquaintances, there were many people who had dedicated themselves to raising a family, only to have second thoughts about their choices now.
"In social terms, that's a positive trend — but there's always a flip side. What's better for a child: a socially successful mom, or one who is strictly a housewife?" the psychologist said.
"The grandmother's social role has also changed. In the past, women preferred to retire and help raise their grandchildren, whereas, today, pensioners try to work hard. In the meantime, nannies and babysitters cost a lot of money and are hard to find."
Sergei Smirnov, director of the Social Policy Institute at the Higher School of Economics, considers the poll results to be totally fair. He is confident that young people are not foregoing a family altogether, but are just postponing tying the knot and having children until later. This is due, in part, to educational opportunities newly available to Russians.
"People pay for college and try to get their money's worth when they graduate. This is only possible with a high-paying job. Plus, a professional who is passionate about their work will raise children better than people from troubled families," Smirnov said.
The professor added that personal character plays an important role in those processes, and the government has a limited say in how the demographic situation develops. "To each their own: Some people are good at raising a family, while others strive for career achievements. The government cannot influence those processes. All it can do is compensate for loss of family income," said Smirnov.
Balashova agrees: "If the government is really interested in increasing the birth rate, let it make maternity a financially lucrative proposition." The psychologist believes it is impossible to predict whether the "career first" trend will be sustainable in the long run. It might reverse several years down the road, and people might become more family-orientated again.
Some experts believe, however, that the family-free attitude reflects infantile behavior typical of the younger generation.
All rights reserved by Rossiyskaya Gazeta.