Janmashtami: Russian Krishnaites reminisce about embracing a new faith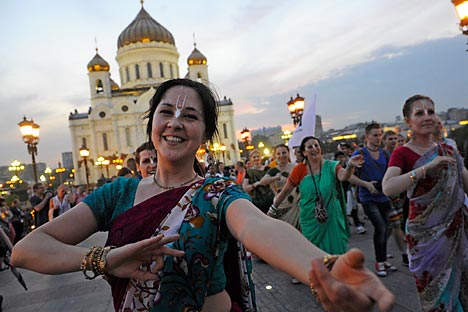 As Moscow marks Lord Krishna's birthday, ISKCON followers describe their journey to spirituality and a lifestyle where they are vegetarians and shun alcohol and smoking
There are a number of festive events held in the Russian capital to pay tribute to the Hindu God, Krishna on his birthday, Janmashtami. These celebrations are in large part due to the International Society for Krishna Consciousness (ISKCON), which found its way to Moscow thanks to Swami Prabhupada, the founder of the movement.

As ISKCON devotees take part in kirtanas and bhajanas, arrange rituals for themselves and their families and friends, and enjoy the flavour of prasad, some of the long-term followers reminisce about how they found the religion.
For many people, the words of wisdom from the Bhagavad Gita became a guiding path for their lives. Andrei Kharitonov, former professor at the institute of mechanical engineering from the Russian city of Kurgan, is a Russian ISKCON devotee. His life changed drastically 14 years ago when his army friend gave him a Bhagavad Gita printed through samizdat (dissident underground press in the USSR).
After reading the holy book, Kharitonov was spellbound. He immediately quit smoking and drinking alcohol and converted to vegetarianism. The former professor also started spiritual practices. Once, during his travels, in the extreme north of Russia, he met ISKCON followers from Moscow. His new friends told him about the movement's temple in the Russian capital. This was when he became Guru Radhanathswami's student, changed his name to Ananda Govinda and began to popularise the ISCKON books. It was on Janmashtami that he visited the temple for the very first time.
Kharitonov's transformation took place in the 1990s after the collapse of the Soviet Union, when the attitude of state towards religion changed. But the followers of Lord Krishna who tried to practice their faith in the USSR faced suspicion and antagonism from the state. Sometimes it manifested itself in unusual situations like the one Swami Prabhupada's student Prithu-Das experienced. Prithu-Das recalled an incident at a Moscow airport, when he sang a Hare Krishna prayer to a tune of a Russian folk song "Polyushko-pole" as a protest against persecution of religious people. As expected, a policeman approached him and demanded to "stop Anti-Soviet propaganda." But he said that it's just a performance of the Russian folk song in Hindi, and the policeman let him go on with the prayer.
Although there is some uncertainty over a new permanent premises for an ISKCON temple, Janmashtami is celebrated with gusto and enthusiasm in the Russian capital. Moscow is believed to have around 20,000 ISKCON followers.


All rights reserved by Rossiyskaya Gazeta.