Nine years after Beslan tragedy: What are the children thinking now?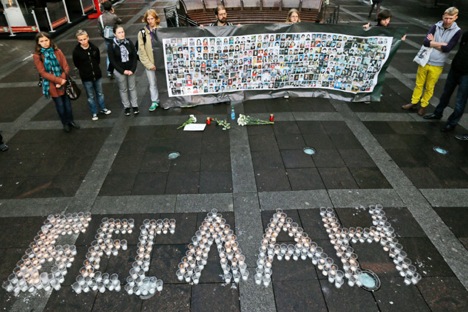 Hostages were taken at School No. 1 in Beslan, North Ossetia on the morning of September 1, 2004 during the ceremony held to inaugurate the new academic year. Source: AP Photo / Dmitry Lovetsky
Children who were held hostage in a Beslan school in 2004 are already graduating from high school. All of them remember that September, but not everyone likes to talk about it. They worry that they will attract too much attention.
Fariza's parents urged her to study in Moscow. But six months before graduation, she decided to stay in Beslan. She will go to the medical academy in Vladikavkaz.
"We, our class, and others, have seen a lot," says Fariza's classmate Amina with a smile. "We took trips to Greece and to America! And we went to Germany and Italy. There were trips to Jordan and to England. And Fariza went to school in Moscow.
"Yes," said Fariza. "We were invited. I went to that school for three years, it was nice, but the kids were mean. I went there in the fifth grade. Everyone urged me to go, but I didn't want to. But I didn't want to upset my mother. Three years later I came home in the summer and stayed."
Hostages were taken at School No. 1 in Beslan, North Ossetia on the morning of September 1, 2004 during the ceremony held to inaugurate the new academic year. For two and a half days the terrorists held more than 1,100 people, including children, their parents, and school staff, in a building filled with explosives. On the third day there were explosions in the school, and later a fire started, causing the building to partially collapse. After the first explosions the hostages began to run out of the school, and security forces stormed the building. During the chaotic shootout that ensued, in which civilians also participated with their own weapons, 27 terrorists were killed. The only terrorist caught alive was sentenced to life in prison.
"You know how it is here," explains Amina, "guests arrive, they go first to the cemetery, to the City of Angels memorial where the Beslan children are buried. Then they go to the gym, where the terrorist attack took place. Our tourist attractions are a cemetery and gymnasium."
"So now they are going to start giving out apartments to victims of the terrorist attack," continues Amina. "You wouldn't believe how the adults are behaving! Especially the parents of dead children. They are arguing about which floor their apartment will be on! Their children are dead, nobody will return them. Why do this?"
"And when I was handing in documents to register at our local technical school, parents were there fighting for a place in line!" Fariza laughs uncomfortably. "Now they don't let parents inside. Last year, they had a fight inside. And this year, it was outside."
"There are some families where one child was killed and the other survived," says Fariza, "and they are so fixated on the first that they forget about the second child.
"Even I am ashamed," Fariza smiles and laughs, but her voice is trembling. "I remember how it was, the terrorist attack, and it makes me ... I think, if I had been older, I would have helped someone. When I got out, people around me were wounded. We could have helped them. But we just got out -- that's all that was on our minds. At one point my brother went and poured water into his shoe and I drank straight from it. My mom asked me for some, but I didn't give her a drink. I'm so ashamed of it! She says she doesn't remember now."
Vika is leaving to study in a management department in St. Petersburg. She thinks all people are good, even those terrorists who held her prisoner.
"People are born good. It's just that some people didn't experience affection in their childhood, they end up a little tough. Some people were shouted at in their childhood. I think people do evil either because of their feelings of inadequacy, or to show their importance in some way," says the graduate. "The terrorists are not bad. Back then, a woman told one of the terrorists that they are just children. And he answered that he has children too that died or something. And so he took revenge, he is also suffering, he lost his family. As for the others ... I also feel sorry for them, really. Do you know why? Because, I think it's a kind of hypnosis! They were led to believe that they should die in the name of Allah, or whatever they die for, and that they had to sacrifice people. Well, there were probably some bad people who led them ... but they didn't do this in order to kill someone, they kill because they believe that if they do this, they will be fine."
Her classmate Ira, in fashionable yellow shorts and with beautiful red manicured nails, is sitting on the couch in her apartment. A few years ago, she got depressed and had problems eating. And then she decided that it is better and more fun to be cheerful.
"I don't like to discuss the attack with strangers," Vika tells me. "Some people come here to ask about the terrorist attack. Many come for that, like journalists. They make reports about the fact that here we are, such heroes, living after the attack. And somehow we are able to find happiness in life. They always talk about the same thing. But anyone would be able to live. Life just goes on and we cannot change what already happened to us. Just the opposite, now it is more pleasant to look at how we laugh, have fun and enjoy life."
First published in Russian in Russky Reporter.
All rights reserved by Rossiyskaya Gazeta.