Russians from across India participate in Delhi compatriots' conference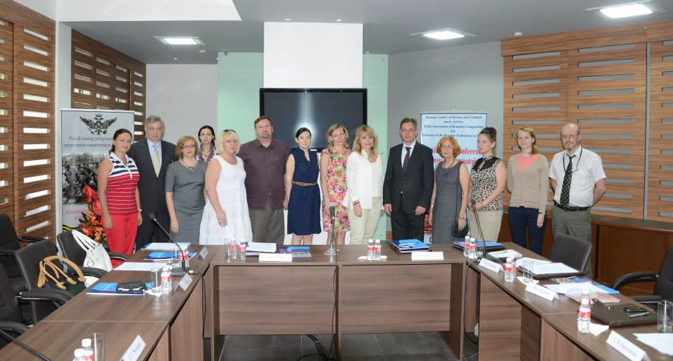 The Third All-India Conference of Russian Compatriots. Source: RCSC New Delhi
The Russian community in India comprises of diplomats, professionals, spouses of Indians and long-term travellers seeking spiritual bliss.
Delegates from all corners of India attended the Third All-India Conference of Russian Compatriots, which was held recently at the Russian Centre of Science and Culture (RCSC) in New Delhi.
Russian expatriates in India do not just consist of diplomats and professionals, but also include those with Indian spouses and travellers to India in search of religious enlightenment.
Elena Barman, President of the Delhi Association of Russian Compatriots (DARC) and Chairwoman of the All-India Coordination Committee of Compatriots, spoke about the Russian community's activities during the past year. She pointed out that Russians in India celebrate July 8, the Day of Family, Love and Fidelity, because "it was love that guided many of us to India (since many Russians moved to India after marrying Indians)."
Some Russian cultural events in India have become highlights of New Delhi's social scene. RCSC Director Fyodor Rozovsky spoke about the achievements of the centre's Russian ballet studio. "The ballet studio has 160 students from 13 countries; they perform at the biggest and most prestigious Siri Fort Auditorium, which seats 2,500, and their shows are sold out," Rozovsky said. "This means a lot. After Mariinsky and Mikhailovsky soloists performed at the end of last year, children from 13 countries danced the ballet Cippolino. This is wonderful."
He also pointed out the key role of the Russian language in bringing India's Russians together.
"Russian women have volunteered to open a Russian language school at the RCSC… This is very important because links to the homeland should not be lost," Rozovsky said.
Chennai, capital of the southern state of Tamil Nadu, is home to far fewer Russians than Delhi or Mumbai but there, too, the compatriots keep in touch with one another and with the RCSC, spreading a love of Russia among the locals. Albert Gofarov, an employee of the local RCSC branch, represented Chennai at the Delhi conference.
"There are not many Russians in Chennai, yet we've been able to establish good relations not only with them, but also with our compatriots in Bangalore and Auroville," Gofarov said. "We organised a big programme dedicated to Russian Language Day. We held a videoconference with people from other cities, including our compatriots in Madurai and Hyderabad. Indians recited Pushkin's poems in Russian and some did their own translations. Overall, interest in Russian culture is huge over there." He added that several Chennai schools intended to include Russian in their curriculum.
Russians in West Bengal's capital of Kolkata are aspiring to have an active cultural life, too. Inga Slutskaya, a delegate from Kolkata, said that there was a meeting with Moscow fairy-tale author Svetlana Savitskaya last September.
"The meeting attracted a lot of interest from Russian women, especially those with children", Slutskaya said.
Children in Bengal will be able to read her fairy-tales soon: 24 of them have already been translated into English and are scheduled to be translated into Bengali, too.
Mikhail Vorobyov, Director of the Consular Department of the Russian Embassy in India, spoke about the role of the consulate in the life of Russian expatriates. "Whereas Rossotrudnichestvo is a form of connection to the homeland for expatriates, the Consular Department, the Consulate, are often a form of emergency connection," Vorobyov said. "Consular employees are not unlike doctors: they are called upon when something hurts. So I wish you to call us not only when something goes wrong but for preventive care, too."
The conference participants discussed fundraising in India for a monument in Moscow to Russian soldiers who lost their lives in the First World War. The World Congress of Compatriots last October proposed collecting money to build a monument on Moscow's Poklonnaya Hill in 2014 (the 100th anniversary of the outbreak of the war).
All rights reserved by Rossiyskaya Gazeta.