New batch of medical students from north India set to leave for Russia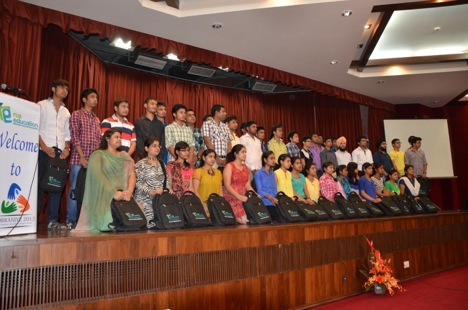 A group of Indian students from north India who had been admitted to Russian universities for the current academic year. Source: Mission of Rossotrudnichestvo in India
Dozens of future doctors who were accepted to Tver State Medical Academy, Volgograd State Medical University or Kazan State Medical University were given a send off at the Russian Centre of Science and Culture in Delhi.
A farewell ceremony for a group of Indian students from north India who had been admitted to Russian universities for the current academic year was organised by the Russian Centre of Science and Culture in New Delhi jointly with the representative of the Tver State Medical Academy (TSMA) and Rus Education company last week.
Addressing the first year students and their parents Head of educational department of Rus Education Elena Barman conveyed her congratulations on their successful admission and shared information on living and studying in Russia. "I have no doubt that these 6 years are going to become fruitful and I hope that later you'll recollect the time you spent in Russia as one of the best periods in your life," she said.
Russian universities are renowned for their standards and the cost of studying in the country is significantly lower than in universities in the United States and other countries. Each year at least a thousand students from India enrol for science-based disciplines in Russian universities. The vast majority of them study to become doctors.
In May, the Russian Education 2013 exhibition was held in Delhi. Young Indians had a chance to talk with representatives of 10 institutions of higher education from different regions in Russia. Many of them applied to universities for admission. Last week, dozens of future doctors came to the RCSC who were accepted to Tver State Medical Academy, Volgograd State Medical University, or Kazan State Medical University.
"We know that a Russian education is one of the best in the world. This is a fundamental education, and graduates of Russian universities will be able to achieve success in different fields. Among the graduates of medical schools we find excellent doctors as well as wealthy businessmen," noted Tatiana Perova, head of the RCSC educational center.
Kamruzzaman Sayed, assistant dean of Tver academy, said that "700 to 800 students from India" are currently studying at the academy. "Do not forget that you are visiting another country, and that your parents have paid for you to become doctors. Therefore, your main goal is to become a good doctor and get a good education," said Sayed.
Sunil Sharma, the father of one of the Indian students at Tver State Medical Academy, went to Tver for a few days last year to see for himself the life of a student and decide whether to let his daughter continue her studies there. "Believe me, the decision was very difficult. It was a real war in the family. I spent a few days in Tver as a student, as a member of my daughter's circle of friends ... When our bus arrived at the hostel in Tver, Russians met us, helped with our luggage, and showed us around. Never have I had such a warm welcome, never have I experienced such a sense of home so far away from it," said Sharma.
He added that the educational system at Tver academy develops the students into "good people, multifaceted personalities."
All rights reserved by Rossiyskaya Gazeta.