Migrant workers face entry bans and deportation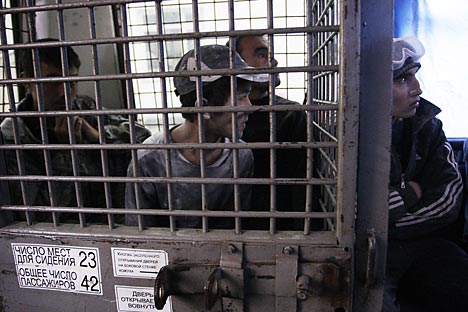 There are between 3 million and 4 million immigrants in Russia and more than a quarter of them have already obtained legal status. Source: RG
Lawmakers in Russia's two major cities, Moscow and St. Petersburg, are looking to cut the number of migrant workers.
The Moscow City Duma has passed a first reading of a bill enabling the authorities to expel migrant workers from the capital for two offenses committed within 12 months. As well, St. Petersburg lawmakers have submitted a bill to the State Duma that involves an entry ban on foreigners with less than six average subsistence wages on them, or 37,000 rubles (around $1,140). Experts doubt that the bills will help take illegal immigration out of the shadows.
If a foreigner is twice charged with any sort of offense within 12 months—say, for making noise in his apartment after 11 p.m., jaywalking, having a beer in a public park or speeding—he or she may be expelled from the country. It is quite easy to commit an administrative offense, and it is up to a police officer to decide whether to warn the offender or draw up a protocol.
"When it comes to immigrants, a regular warning will never be enough. Police tend to pay more attention to them and always check them very thoroughly. There are so many rules in the Code of Administrative Offenses that you can draw up a protocol against anyone and take them to the station," says Moscow police officer Ilya Krasnov.
The bill that suggests deporting immigrants from the country for two offenses is a result of a long decision-making process. At first, lawmakers considered expelling guest workers from the country for a road traffic offense—a proposal that was backed by Moscow Mayor Sergei Sobyanin in the wake of a serious accident when a truck driven by an Armenian with no Russian license hit a bus, killing 18 people.
"We need to seek harsher punishments for those who come to Russia and fail to play by the rules," Moscow State Duma Speaker Vladimir Platonov says. "We need to find ways to hire Muscovites. This is doable. In Zelenograd, they launched a campaign to expose fare dodgers and managed to boost drivers' wages. The vacancies are now filled by locals."
In two months, only foreigners with Russian driver's licenses will be able to work as drivers. Previously, the State Duma passed amendments to the law "On Traffic Safety," which will come into effect on Nov. 8, 2013. Immigrant drivers of trucks and buses who work in Russia with no local license will have their international licenses suspended for two years, and their employers will be fined 100,000 rubles (about $3,100). Moscow officials also want tougher sanctions for driving trucks and buses with no proof of technical inspection, and they suggest doubling penalties for owners of such vehicles to 100,000 rubles.
"Combined, these measures might work. So far, we have been tackling only one issue: how to curb illegal immigration," says Moscow State Duma deputy Andrei Klychkov.
Yet more immigrants seems the only solution to the current manpower shortage. Zhanna Zayonchkovskaya, head of the Immigration Laboratory at the Economic Forecasting Institute with the Russian Academy of Sciences, believes that Russia's able-bodied population will decrease at a rate of about 1 million people annually over the next five years.
Immigration gain is currently estimated at 250,000 people a year; of these, 70 percent are employable workers. There are between 3 million and 4 million immigrants in Russia and more than a quarter of them have already obtained legal status.
"It is a statistical fact that we need immigrants, but the question is what kind of immigrants we want. The economy needs qualified foreigners, because we are seeing growth in the sector of high qualifications," says the economist and former deputy energy minister of Russia, Vladimir Milov. "We admit Asians, who can only offer unskilled labor, whereas Europeans, Americans and Japanese, who are capable of supplying the specialists we need, are faced with visa barriers."
Low productivity and a low level of automation are distinctive features of the Russian economy, experts say, hence the need for so many workers.
"If Russia keeps receiving these numbers of guest workers, they will become the reason the economy is unable to boost productivity and automation," Milov says. "All the new bills are aimed at cutting the number of immigrants, but none are there to help them obtain legal status and let the country collect taxes from their labor. We need to combat the officials and employers who benefit from the illegal status of immigrants, rather than the immigrant workers themselves."
All rights reserved by Rossiyskaya Gazeta.