Pussy Riot member declares hunger strike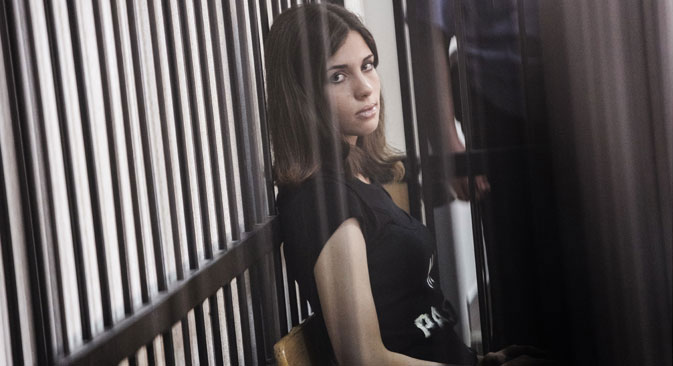 Pussy Riot member Nadezhda Tolokonnikova has complained to the Investigations Committee that she is getting threats from the colony administration. Source: Andrey Stenin / RIA Novosti
Experts will inspect the prison camp where band member Nadezhda Tolokonnikova is serving her sentence as a result of her allegations – and counter allegations by camp authorities.
Nadezhda Tolokonnikova, a member of Pussy Riot, has declared a hunger strike. According to a letter she sent to law enforcement agencies and several Russian publications on Sept. 23, she has decided to take this action because Yury Kupriyanov, the deputy chief of the prison camp in the Republic of Mordovia where she is serving her sentence, personally threatened her during a private meeting on Aug. 30.
Tolokonnikova said she was called to Kupriyanov's office for the meeting after she asked the relevant authorities to investigate the behavior of the camp administration.
Tolokonnikova is serving a two-year sentence for hooliganism as a result of her participation in Pussy Riot's "punk prayer" at the Cathedral of Christ the Saviour in Moscow.
According to Tolokonnikova, after her meeting with Kupriyanov, some prisoners began to threaten her with physical violence. When she confronted her fellow inmates, they said they had been given a "sanction for physical reprisal" against Tolokonnikova from the camp management.
Tolokonnikova's open letter is addressed to Director of the Federal Penitentiary Service of Russia Gennady Korniyenko, Head of the Investigation Department of the Investigation Committee for Mordovia Mikhail Nazarov, Prosecutor of the Republic of Mordovia Valery Machinsky and Ombudsman Vladimir Lukin.
In the letter referred to by Russian news portal Lenta.ru, Tolokonnikova says that the hunger strike is also associated with numerous violations in the colony – in particular, the working day of inmate seamstresses.
Tolokonnikova works in the sewing shop making police uniforms, and according to her, the work day is between 16-17 hours long, the production quotas are constantly increased, and prisoners who fail to meet the quotas are deprived of the right to use the toilet or denied food.
A report on the website of the Dozhd TV channel gave another perspective on the conflict. According to the report, representatives of the Federal Penitentiary Service say that the letter is part of a blackmail attempt.
The representatives claim that on Sept. 17, Tolokonnikova's husband Pyotr Verzilov, an activist with the Voina art collective, and her lawyer Irina Khrunova suggested that Tolokonnikova be transferred to another unit and employed at an art studio.
If their request was not fulfilled, Verzilov and Khrunova promised to send a statement alleging that that Kupriyanov had threatened to kill Tolokonnikova to the Investigation Committee, the Prosecutor General's Office, and the Federal Penitentiary Service, as well as to the media.
Kupriyanov for his part refused to honor the request, stating that he was not in responsible for prisoners' work assignments.
Maria Kannabikh, president of the non-profit organization Interregional Charitable Foundation of Aid to Prisoners, said that she would investigate all the allegations.
"In the coming days, I will go to this camp in Mordovia along with a council of civil society representatives, and I will carefully investigate what is happening there. We will meet with people including Nadezhda Tolokonnikova, with the management of the camp. I hope we will be able to understand what are actual problems there, and what is exaggerated," she said. Kannabikh said that she is familiar with that institution and even created a rehabilitation center there to provide aid to prisoners.
"With regard to production facilities, they are in a difficult situation in any camp, and not particularly comfortable. I assume that overtime work could take place. Most likely, the working day exceeds eight hours, but it is unlikely to be as long as 17–18 hours," Kannabikh said.
"If the camp receives a large order for uniforms or the like, then they try to complete it on time to earn money. However, this intensive work is not constant. After an order is completed, workshops can stand idle."
All rights reserved by Rossiyskaya Gazeta.