A-list Hollywood stars advertise for Urals newspaper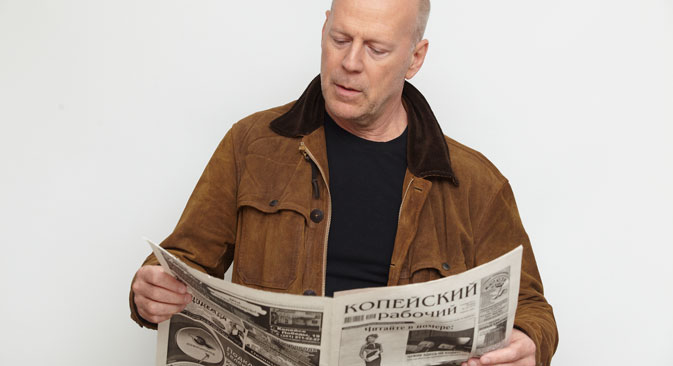 Bruce Willis is one of celebraties, whose interview were published in Ural newspaper 'Kopeisky Rabochiy' (on the photo). Source: Kopeisky Rabochiy newspaper
Seventeen photos of major Hollywood celebrities were recently published in the Kopeisky Rabochiy, a provincial newspaper from the Urals.
Bruce Willis, Angelina Jolie, Leonardo DiCaprio, Tom Hanks, Steven Spielberg, Richard Gere, Johnny Depp, Justin Timberlake, Harrison Ford, Kate Winslet and other stars were pictured holding a copy of the Kopeisky Rabochiy.
"It's all real," the editor-in-chief of the newspaper 'Kopeisky Rabochiy' says. "We have the right contacts, that's all."
The world's leading publications would pay through the nose to secure such advertisements. Incredibly, a paper with a circulation of just 9,000 from the small factory town of Kopeisk got it all for free.
Source: Kopeisky Rabochiy newspaper
The reason is surprisingly simple. Margarita, a former resident of Kopeisk and now a U.S. citizen, took the photos. Together with her husband Jack Tewksbury, a famous producer, she shoots the stars and asks them to pose holding the newspaper brought to the States from the faraway Urals.
Life in the Urals is hard: Industry is heavy, meteorites fall from the sky, and Russia's harshest prison camps are a stone's throw away. The only thing lacking there is proficiency in the English language. In fact, not only did the stars pose for the photos, they also recorded rather lengthy interviews for the denizens of Russia's remote province.
People in Kopeisk are scrambling for help translating those interviews into Russian; the paper has even posted a call for help on its website.
"The editorial board of the Kopeisky Rabochiy has decided to announce a translation contest among high school and college students. Anyone between the age of 15 and 20 is welcome to take part. Help from parents and teachers is allowed," the website announcement reads. Winners have been promised valuable prizes.
This whole story has boosted the paper's PR brilliantly. Once sluggish, sales have gone through the roof recently. Visitor traffic on the website has soared too, making the editors seriously consider expanding their paper's web presence.
All rights reserved by Rossiyskaya Gazeta.