In Russia, the debate between leaning in and opting out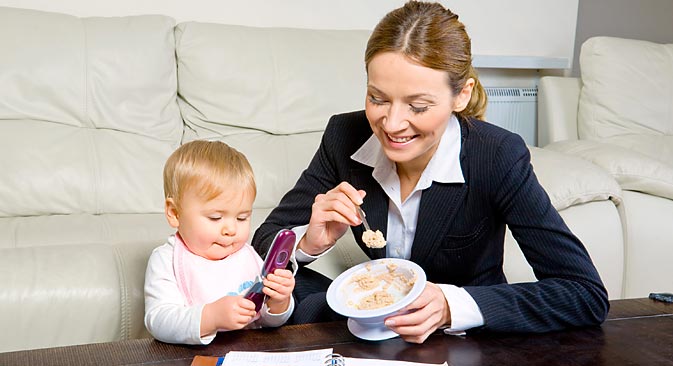 According to surveys conducted this year, a third of Russians over 18 believe that raising children is incompatible with having a successful career. Source: Shutterstock
Young Russian women are ambitious as those anywhere, but a majority still believe in getting married and having children early.
"In the Soviet Union, we always thought a woman should give birth before she turned 25," said Militina Dolina, who worked as a birth attendant for 52 years before recently retiring. With attitudes like this one, it is not surprising that by 1990, the average age of first marriage for Russians was 21.9 years, according to research from the Institute of Demography at the Higher School of Economics.
Today a majority of Russians still follow this traditional pattern of marrying and starting a family young. According to data from the Levada Center polling agency, the average Russian woman marries at 22, and the Russian man at 24. For comparison, the average age of marriage in the United States is 26.1, in Japan – 28.8, and in Germany, 30.2.
"I am 27 years old and I have three children - two daughters, ages 7 and 3-and-a-half, and a 3 month old son," said Anna, a stay-at-home mom.
"When I was 19 and my husband and I started living together, we both had a strong feeling that we wanted a child, so I gave birth at the age of 20. I spend all my time with my kids and I am very happy that this is possible. Their childhood will go by fast, but my work will still be there."
But times may be changing. According to surveys conducted this year by the web portal Superjob.ru, a third of Russians over 18 believe that raising children is incompatible with having a successful career – and that focusing on your career should come first.
Elena Bolashova, head research scientist in the psychology department of Moscow State University cited some reasons for this.
"Today people have started thinking about their careers in a completely different way. This is because there are a lot more possibilities of professional growth, if we compare it to the situation 30-40 years ago. Today there are possibilities of serious financial growth, of work abroad and of traveling. We used to see career-driven men, but now there are many more career-driven women," Bolashova said.
Sales manager Ekaterina, 25, fits the description of a career-driven woman. "I am against settling down early," Ekaterina said. "A man and woman must first find their purpose in life, they should both be ready to start a family. As for early marriages- they don't last!" But even she doesn't want to put off having a family forever.
"If you try to become the head of an investment bank before you turn 35 and then start thinking about kids - that will also be wrong. You should grow as an individual and as a professional until around 27-28, and only after that start a family."
Russian maternity leave policies, which are some of the most generous in the world, make it possible for young women to continue to build their careers after having a family.
A woman's employer must hold her job for her for up to three years after she has a baby, although the mother's full salary is paid only during the first year, which means that not everyone can take full advantage of the law.
Additionally, not every woman wants to take three years off work. Anastasia, 27, a graphic designer for a glossy magazine, gave birth at 23 and went back to work two weeks later.
"You lose your abilities, your circle of contacts," Anastasia said. "It will be impossible to return to your profession at the same level [if you take three years off]."
According to the Superjob surveys, young Russians choose career over family for socialization and professional growth. Forty-two percent of young people under 24 believe having children will only be a hindrance to building a successful career.
But the percentage of people who agree with this statement falls with age – from 35 percent in the 25-34 age bracket to 26 percent of people over 45.
And even those who are focusing on their professional development believe that once you have children, they have to come before your career.
"If you have the possibility, it's better to devote 2-3 years to your child," Ekaterina said, "because otherwise the time will pass and you won't be able to bring it back."
All rights reserved by Rossiyskaya Gazeta.