Veteran nurse invited to train women in Chechnya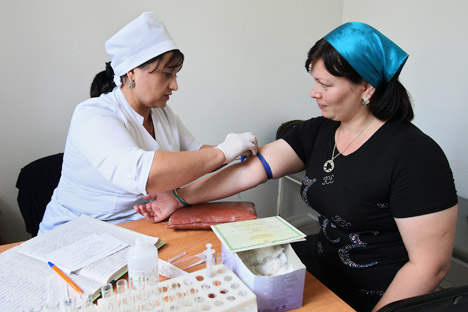 Eighteen months ago, Elvira was invited to Chechnya to work, to teach the young nurses. Source: RIA Novosti
There is a shortage of nurses in the recovering Chechen Republic: There are enough young women educated in medicine, but they have no experience.
Elvira Mikhailovna has worked her entire life as a nurse, despite the low pay and heavy workload. She was invited to Chechnya from the nearby republic of Kabardino-Balkaria, to teach women with certificates of competency to work in the hospital.
Elvira Mikhailovna did not choose her profession by accident. One of her sisters had her lung amputated and constantly had to seek medical attention. Elvira really wanted to help her, but the desire to help was competing with a flirty desire to create fragrances. "I wanted to be a chemist-perfumer, to work with fragrance. But my sister told me that this was not practical and that I would be better off going into medicine," she says.
Her sick relative's advice led her to medical school. "I started in 1978, and two years later I received a nursing diploma with honors," says Elvira. "I wanted to get a medical degree, but my family situation did not allow me. I got married and went from our hometown of Nalchik to Moscow with my husband. He was studying at an institute and our parents could not support two students at once, so I got a job. Then, together with my husband, I received a second degree—a degree in law—but I could not do anything other than medicine. My law degree was left lying on the shelf at home."
Eighteen months ago, Elvira was invited to Chechnya to work, to teach the young nurses. However, it was not so easy. "Over the year and a half while I have been working here, I have had only one student. She became an operating nurse. I am still taking the post of head nurse—I cannot find a student. I hope that there is someone who wants to learn the profession; otherwise, I will be very embarrassed that I did not fulfill my mission," the healthcare worker says.
Elvira Mikhailovna. Source: Personal archive
Elvira says that being the head nurse is difficult; there is a lot of paperwork, and the young prefer to work in a place where it is easier. "People are going to study reluctantly, because certification for re-training costs money and, at a low salary, it not always realistic. We will have to work for 2-3 months in order to save money for the documents. In Chechnya, the salary of an entry-level nurse is about 5,000 rubles [$155] a month. After three years of work, you can get an allowance," says Elvira.
As an invited specialist with higher qualifications, 30 years of work experience and the performance of duties for two pay rates, each month Elvira receives around 13,000 rubles ($410). Therefore, all those who work in hospitals have to work at two positions and sometimes in several medical institutions.
However, no amount of deprivation and no low wages could make Elvira change her career and find a more comfortable place to work.
"I've always felt that that's what I should do. Every day, I realized that people needed me. The nursing profession is one of the most difficult ones, but, on the other hand, it was so easy that many hours of operation passed unnoticed. During operations, I was sure that I always had to be next to the surgeon. If I can help people, then that is what I should do. If we do not treat people, who is going to do it then? I now believe that I was able to fulfill myself. I would just like to pass my experience on to others, and that is why I came to Grozny," says Elvira.
During the week, Elvira lives in the capital of the Chechen Republic and, on the weekend, she goes to Nalchik, where her family is. "While I am working during the week, I live at my colleague's place. They are very good people, they let me live in their house and do not take any money for it. At our hospital, they do not even think about looking into accommodation for their employees," she says a little sadly.
In 18 months, her contract will expire and she will go back home, where she plans to become involved with massage, in addition to her medical practice. She is now studying massage techniques via YouTube video tutorials and practices on her husband.
As for nursing, Elvira is sure that you can only be a nurse by calling and no other way. "It's a blessing if you find yourself—after all, not everyone can find their calling," she says.
All rights reserved by Rossiyskaya Gazeta.