Russians raise $16 million for Far East flood victims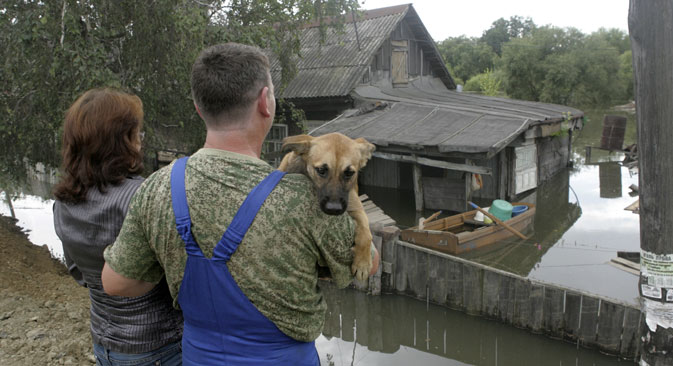 The flood in Russia's Far East has affected thousands of houses, prompting evacuation from at least four regions. Source: AP
TV marathon helps bring relief to the Far East.
On Sunday, Sept. 29, Channel One broadcast a 10-hour TV marathon in support of flood victims in the Russian Far East. Provisional data shows that TV viewers donated more than 517 million rubles ($15.9 million) while the program was on the air. The money will be used to build new homes in the disaster-stricken region.
Most of Channel One's staff was involved in the event, and the TV marathon was supported by musicians such as Vladimir Spivakov, Larisa Dolina, Valeriya, Leonid Agutin and the group Lubeh.
People in talk-show studios discussed the disaster in the Far East, and a newsroom was set up, from which there was live coverage and news with direct link-ups to flooded areas every two hours.
Well-known artists and public figures also came to the newsroom to talk on the phone with people affected by the flooding. In addition, they made phone calls to thank those who had texted a short number to donate money for people living in areas of the Russian Far East.
Behind the scenes at Channel One, people said they had found out about the special broadcast two weeks ago.
"It's a pity we didn't do this during the Krymsk flood [which happened in the south of the country in the summer of 2012]," said Konstantin Ernst, head of the television channel. "It's probably because we didn't manage to get together in time. But now it's clear that the cold weather is coming, and a vast number of people will find themselves in a difficult situation."
It was decided to devote the whole day to the marathon (from 8 a.m. to 6 p.m. Moscow time), "so that we could have live coverage in all the time zones," said Ernst.
According to the organizers, some artists had warned in advance that they were willing to work for a maximum of one hour, but "they carried on calling for another two or three hours."
Sergei Yursky, Yuri Solomin, Dmitry Dyuzhev, Lev Leshchenko, Filipp Kirkorov, Kseniya Alferova, Yegor Beroyev and Iosif Kobzon took turns manning the phones during the day.
"One couple struck me," said Sergei Yursky. "They'd been affected by the flooding, and then they returned to their flooded home. She was 70 and he was 80, and they had a dog with them… I heard so many people — from Komsomolsk-on-Amur, from Khabarovsk Region — and I was struck by their optimistic voices. But how can this money be shared between all of them?"
Ernst says that the organizers of the marathon did not want the broadcast to have a tragic feel.
"This is a drama but not a tragedy, because thank God everyone is still alive. It's like people from one village building a house for their neighbors who've been made homeless by fire. In days like this, you understand how great your compatriots are, how they respond — they're ready to help. There were some older viewers who wanted to help but didn't know how to send a text: Our presenters told them to go and get their neighbors to explain to them. One woman sent more than 500 messages. We called her back and she said: 'I wasn't counting: I was just watching the program and sending them.'"
Now, according to the general director of Channel One, all the money donated will be put into one bank account and will be used for building prefabricated housing areas. In the next few days, a company will be founded to manage the whole process — drawing up contracts, transport and on-the-spot assembly.
Ernst has already had talks with Yuri Trutnev, the presidential plenipotentiary envoy in the Far Eastern Federal District, and space will be allocated for construction on Oct. 1, at a conference with Far Eastern District governors.
First published in Russian in Kommersant.
All rights reserved by Rossiyskaya Gazeta.