Counting the days behind bars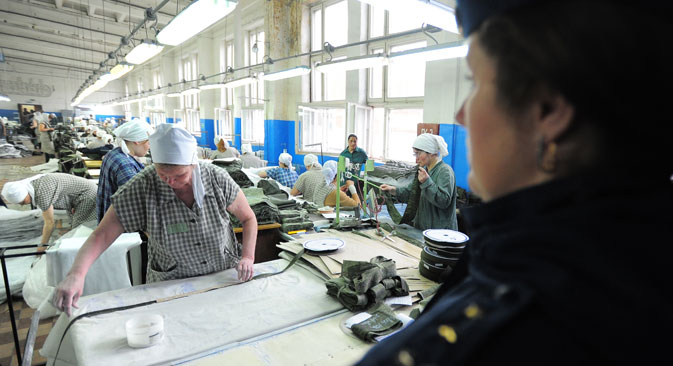 All the women at the Ivanovo camp work in the sewing shop. Source: ITAR-TASS
Life for women in Russia's prisons may be tedious, but activists say conditions are not as bad as portrayed by Pussy Riot's Nadezhda Tolokonnikova.
The hunger strike of imprisoned Pussy Riot member Nadezhda Tolokonnikova, which lasted from Sept. 25 to Oct. 2, has made life for women behind bars a hot topic in the Russian press – much as Piper Kerman's memoir "Orange is the New Black" did for the American media.
Despite some cultural differences – Russian female inmates are often employed in handiwork and they are required to wear headscarves – much about life in a Russian prison camp would ring true for readers of Kerman's book.
At a prison camp in the Ivanovo Region in central Russia, three huge German shepherds bark at prisoners lining up behind a tall iron fence. The fence separates the barracks where the women sleep from the sewing workshop.
A guard barks at the women to open their bags before entering the facility. The plastic bags hold a change of shoes and the women's sewing shop uniforms. Another guard examines each prisoner and her bag. The women go through this procedure twice every day – when they go to work, and when they leave.
"This is to ensure they do not take anything out of the sewing shop," said the guard, who declined to be identified. "Women are more violent than men; they could carry something into their room and then attack a cellmate."
All the women at the Ivanovo camp work in the sewing shop. They are allowed to use scissors while working in the shop, which is one of the reasons the prisoners must be checked so thoroughly on their way to work and at the end of the shift.
Only a third of Russian prisons offer inmates the opportunity to work, and prison camps compete for government tenders, according to Maria Kannabikh, president of the non-profit Interregional Charitable Foundation for the Aid of Prisoners.
In contrast to Tolokonnikova's assertions that inmates in her sewing shop at a prison camp in the Republic of Mordovia are forced to work 16-17 hours a day for pennies, Kannabikh said that prisoners often work 10-11 hours a day and receive a monthly salary similar to that earned by non-inmates who work in prisons.
"Of course, Nadezhda is correct about this part that the penitentiary system should be improved, to become more humane," Kannabikh said. "But I have talked to [prisoners] – they get approximately 7,000 rubles ($220), about the amount that is paid to canteen workers."
In addition to sewing, other forms of prison employment include weaving, crocheting and painting Russian nesting dolls.
Despite the concerns of the prison authorities, attacks on cellmates at the Ivanovo camp are rare. Other concerns are more pressing. In the barracks, dirty rags hang from the walls, dripping dry, while in the long hallway, buckets of laundry left to soak leak on the floor, which then squeaks as a guard walks by.
"What have you laid out there?" the guard shouts. "I'll give you a lock up for that kind of mess."
One inmate jumps off her bed and rushes into the hallway, quickly pulling the wash down. Another empties a bucket into a sink and rinses it out.
Blue is the new black
The calf-length blue skirts, shapeless jackets and broad white headscarves that are the uniform of prisoners at Ivanovo are a different look for Alina, 20, a self-described "restless party girl" whose headscarf barely covers her blonde dreadlocks.
"I never dreamed of finding myself here; it really is like a bad dream," Alina said. "It is cold in the dorms, but the worst thing here is that the girls create their own cliques and you'd better be ready to stand up for yourself."
Before she went to prison, Alina was a student, studying chemistry. She was a regular at clubs and discos and sold drugs at the clubs on the side. She is serving three years for distribution of narcotics.
"I lived with a lot of stress and tension for the first six months, but now I am more or less able to express myself," said Alina.
There are approximately 58,000 female prisoners in Russia out of an overall population of 142.5 million, according to the Interregional Charitable Foundation for the Aid of Prisoners. For comparision, statistics from the U.S. Department of Justice show that there are 113,000 women incarcerated in the United States out of a population of 316.6 million.
All rights reserved by Rossiyskaya Gazeta.