Russian MPs look to make housing more affordable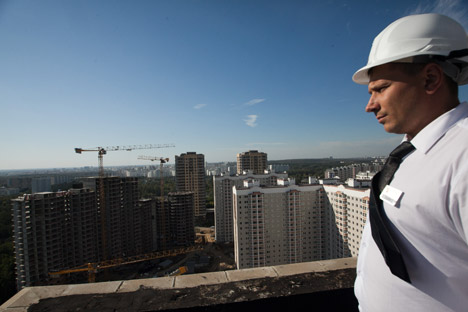 If a new bill is accepted, a one-room apartment in the capital city of Moscow may cost only 10,000 rubles ($315), plus utilities. Source: Itar-Tass
If a new proposed law comes into being, young families who can't afford to buy an apartment or assume a mortgage will get access to low-rent housing.
Deputies are proposing to introduce "nonprofit rentals," for which monthly payments will be slightly lower than rent paid for communal apartments. The draft law, which would allow Russians in need of shelter to "rent" an apartment from the city or municipality, has passed first reading in the State Duma.
"If this document becomes law, 7–8 percent of all the Russians who were on the housing waiting list as of 2005 will be able to get a home of their own. This will include millions of young families, whose low salaries do not allow them to improve their living conditions," says Galina Khovanskaya, chairperson of the Duma Committee on Housing Policy and Public Utilities. "The monthly fee for such an apartment will be 2–3 times lower than charged on the commercial rental market."
For example, a one-room apartment in the capital city of Moscow will cost only 10,000 rubles ($315), plus utilities.
To be eligible for this program, families will have to prove that their total income does not allow them to either buy an apartment or assume a mortgage. However, upon renting an apartment from the state, the "life-time tenant" will lose his place on the housing waiting list.
"This is a great solution for middle-class families living in major cities of the country," Khovanskaya says. "We expect that, in the near future, these nonprofit rentals will become the main form of housing resources."
It should be noted that, under this program, the tenant would not be allowed to either give up his or her apartment or change it for another one. For the second reading in the State Duma, the deputies intend to develop penalties for violation of this requirement. In addition, the minimum rental term is meant to be no less than one year.
Legislators in the Duma are working on the amendments now. So far, not all experts agree on ways to attract investors for the construction of nonprofit housing. Some believe that developers should be given land free of charge, while others think that investors should be exempt from taxes. Some investors wish to be granted free communications, and others want to be provided with preferential loans.
"It is assumed that such a building will pay its own way," says Khovanskaya. "Then, after a few years, the developer will be able to recoup all the money spent."
The experts of the Public Chamber of the Russian Federation recommend that deputies expand the list of those who can rent housing and include low-income people, as well as give people the possibility of buying apartments in these nonprofit buildings, in order to avoid the formation of social ghettoes.
The deputy admitted that this program will not be effective in small towns and villages, where people can rent an apartment from an "old landlady" and it will cost about 3,000 rubles ($95) per month.
The first apartment buildings will appear in 80 major metropolitan centers; in some of these, the housing experiment will begin very soon. Authorities of the Leningrad, Moscow, Samara, Orenburg, Orel, Novosibirsk, Kaluga and Tula region, as well as the municipal authorities of Moscow, have all agreed to take part in this program.
The second reading of the draft bill in the State Duma is scheduled for November–December.
First published in Russian in Rossiyskaya Gazeta.
All rights reserved by Rossiyskaya Gazeta.