Discontent in smaller regions over Muscovites wealth and living standards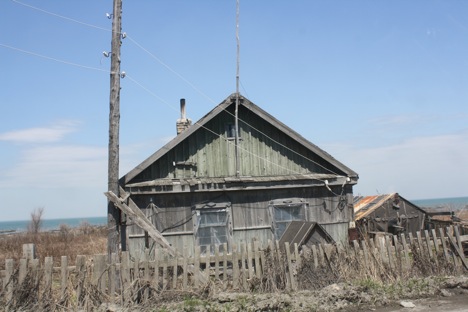 An old wooden house in the distant Khabarovsk region. Residents of distant regions are often resentful of the luxuries Muscovites enjoy. Source: RIR
According to a national public opinion studies centre VTSIOM survey, 82 percent of Russians are certain that Moscow lives at the expense of other Russian regions by and large.
The stark contrast between wealthy Moscow and the far less prosperous provinces is a very sensitive theme in Russian society these days. Last Monday the chief of the presidential staff, Sergei Ivanov, raised it quite unexpectedly again and in a very caustic way. Interviewed by four Russian periodicals, Ivanov suddenly asked himself: "Who are the people of Moscow?" And at once offered an answer. "Street cleaners, car drivers, office plankton, journalists and officials. The services and retail. Bloggers as well. There is such a profession these days, don't you know."
At first sight it might seem that a senior Kremlin official was very angry about Muscovites because of the outcome of the September 8 mayoral election. Radical opposition figure and blogger Aleksei Navalny placed second with 27 percent of the votes. Another likely reason lying on the surface can be seen in the 2011-2012 protest actions. The protest sentiment in the Russian capital is stronger than anywhere else.
However, in his criticism of Moscow townsfolk Sergei Ivanov went much farther. "What do these fifteen to twenty million produce? Absolutely nothing. Intellectual property? I doubt that. Take Novosibirsk. The city manufactures high-tech products, planes and fuel assemblies for nuclear power reactors in demand all over the world. They make specific taxable products. But I do not see if Moscow produces anything at all." Sergei Ivanov, a retired lieutenant-general, is from St. Petersburg, a city that is sometimes referred to as Russia's other, northern capital. It is believed that some sort of rivalry has always existed between the two cities.
However, one cannot deny that in his remarks about Moscow and the Muscovites the chief of the presidential staff expressed the opinion of a majority of the country's population. According to aurvey conducted by the national public opinion studies centre VTSIOM, 82 percent of Russians are certain that Moscow lives at the expense of the regions by and large. In the meantime, in these smaller cities with populations under 100,000 and in rural communities the number of respondents who believe that Moscow wallows in luxury on provincial money is as high as 86 percent. And in Moscow and St. Petersburg this point of view is shared by 65 percent.
Over two-thirds of respondents (68 percent) believe that currently there exists certain alienation and tension in relations between the Muscovites and the people of other regions of Russia. This opinion is most widely spread in cities with populations over one million (78 percent).
The daily Nezavisimaya Gazeta has entered into public argument with Ivanov. "It is hard to believe that such a high-ranking official is really unaware of what exactly Moscow produces," the daily says. According to the newspaper the Novosibirsk aircraft-building plant that Ivanov mentioned builds Sukhoi-34 jet fighters and Su-24M fighter-bombers, developed in Moscow, and not some other place. "There would have never been any Sukhoi planes in Novosibirsk but for the creative effort of thousands of engineers and blue collar workers at the Moscow-based Sukhoi design bureau."
"Also, it is hard to believe that the chief of the Kremlin staff sincerely believes that the fuel assemblies for nuclear power reactors are the exclusive product of the Novosibirsk plant of chemical concentrates, which developed them on its own, without the technologies provided by Moscow's Kurchatov Institute or the engineering cluster at Elektrostal, near Moscow. Ivanov certainly knows that all of the key aircraft, missile and space design bureaus are located in Moscow, and these bureaus employ not just office plankton. The backbone of the country's strategic defence - the missile complexes Topol, Yars and Bulava - are the products of "loafers" at Moscow's Institute of Thermal Technology. Moscow's people have designed and tested the S-300 and S-400 air defence complexes and other similar technologies," says Nezavisimaya Gazeta.
One may also recall that Moscow is the country's largest educational, financial, administrative, medical and scientific centre. On the list of the world's 100 largest cities rated by the size of the GDP Moscow, whose share in Russia's GDP is over 20 percent, is in fifteenth place. Experts at PricewaterhouseCoopers (PwC) forecast that by 2025 Moscow may rise to twelfth line on the list. A city that accounts for one-fifth of the nation's GDP is not exactly what one may call a loafer.
On the other hand, Moscow's incomes are way above those of any other region of Russia. In 2013 the city is expected to earn 1.5 trillion roubles, 8 percent more than in 2012. The income forecast for 2014 stands at 1.6 trillion (an increase by 5.8 percent). In contrast to this the 2013 budget of Dagestan, a republic in the North Caucasus is 20.6 billion roubles - a tiny one-seventy fifth fraction of the budget of Moscow.
If one bears in mind that of the 83 constituent territories of the Russian federation 60 to 70 regions still remain subsidies-dependent, it has to be acknowledged that next to them Moscow does look like an earthly paradise.
Back in the Soviet era Moscow was the country's most lucrative city, too. The senior citizens still remember this sad proverbial riddle: "What's very long, very green and salami-smelling?" The answer is: "It's a suburban commuter train carrying provincial residents back home after food shopping in Moscow."
This year, according to the federal statistics service Rosstat, Moscow's population stands at 12 million. But Sergei Ivanov mentioned the 15 million to 20 million for a good reason. Ever more guest workers from other CIS countries and nearby mono-industrial towns, where there are virtually no jobs to go around, keep flooding the city every single month. And the devastating floods in the country's Far East this autumn may add a lot to the influx of migrants to Moscow.
Experts believe that in order to eliminate the imbalance between Moscow and the other regions of Russia special measures have to be taken to develop promising economic centres in several key parts of the country. Russian President Vladimir Putin in a decree dated May 2012 set the task of creating twenty five million new jobs in Russia in several years to come. But as Russia's economic growth has ground to a halt over the past few months and tangible investments are nowhere in sight, this task may require far more time than it was originally anticipated.
First published by Itar-Tass.
All rights reserved by Rossiyskaya Gazeta.