In Moscow, a place for addicts to be themselves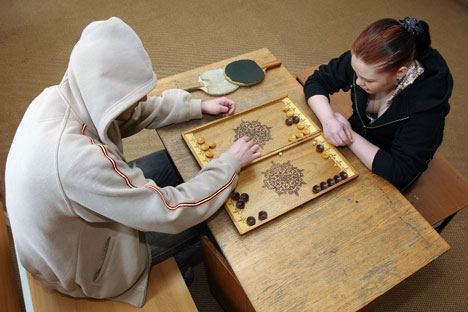 Most of drug addicts have unsuccessfully tried "unwind periods" in rehabilitation clinics, but they are still struggling to get out of the hell of drugs, together. Source: RIA Novosti
More than 6 percent of Russia's population – nearly 8 million people –regularly use illegal drugs, according to the Federal Drug Control Service. Between 20,000-30,000 people die each year from drug addiction. But is one place in Moscow where addicts can dream of a world without drugs.
On the first floor of an apartment building on the outskirts of Moscow, 11 people sit on benches with serious looks on their faces. They are all between 25 and 40 and they have come to this unremarkable apartment because they share a secret – they are all drug addicts.
The apartment, which is not marked by any notices or signs and is decorated only with a Russian flag, is the home of the Foundation Against Drugs and this is a meeting of the Society of Recovering Drug Addicts, which is similar to Narcotics Anonymous.
"I am a disgusting drug user," begins Slava. He is 28. Before he started taking drugs, he drank. He says he began drinking heavily when he was 10. Slava has a different look from the others. He is well-dressed and smiles easily. He has a wife and a young daughter. To convince his wife to marry him, he entered a rehab program.
The average monthly payment for a stay in rehab is between 80,000 to 150,000 thousand rubles ($2,500-$4,650), and most addicts who go to rehab stay at least six months. In comparison, a monthly stash of heroin costs 90,000 rubles ($2,800) for two hits a day.
But rehab didn't work. He hasn't been able to give up drugs completely.
Slava is so desperate to break his drug habit that he has even considered going to jail. "At one point I felt that I had one way - either to jump out of a window, or to serve my time there."
Slava blames his addiction on selfishness, self-absorption and narcisissm. When he takes drugs, he says, "I start to swell from pride right away, and the other person becomes uninteresting to me."
When another of the addicts, Vova, asked what friendship means to Slava, Slava replied that it is when no one expects anything from him. Slava adds that he has no friends. Under the influence of drugs, he has betrayed everyone he cares about – even his wife. He has gone to prostitutes while high.
After Slava's confession, others start to loosen up little by little.
"The cops always look at me like I'm an 18-year-old drunk girl," said Marina. And indeed her gestures and speech make her seem like a teenager, even though in fact, she is in her late 30s. She has a daughter and her own business. "Sometimes, I get in the car, and all I think about is drugs. My mind understands that I have a business, the daughter, but there is nothing I can do with myself."
Some of Marina's friends have tried to convince her to do self-analysis, a treatment philosophy that involves making small confessions to yourself, but so far she has refused. "People try to convince me to write self-analyses, but I don't want to – it is unbearable," she said.
She came to the meeting tonight at the request of her husband. To take part in this program, addicts must attend voluntarily and must admit that they are addicts. Like in Narcotics Anonymous, those taking part in the Society of Recovering Drug Addicts must pass through 12 steps, including making amends and taking an honest look at themselves.
A girl in her 20s starts to confess: "My mother does not give me money [for drugs], so I decided to ask my father, as he, too, is addicted. It has always been difficult for me with him, and for the first time we talked heart to heart, but about the money he nevertheless said that he will have to ask Mother."
After each confession, she speaker says that they are clean, and announces how long it has been since he or she last used drugs. For some, this is weeks, for others - days.
It is not clear whether the addicts are telling the truth or just trying to present themselves in a good light, but it is clear they are all struggling.
At the end of the meeting, they all rise for a prayer. And the members of the group embrace, they smile at each other and they feel that they are not alone – even if just for a short hour and a half.
All rights reserved by Rossiyskaya Gazeta.