VKontakte, Russian government team up to tackle cheating students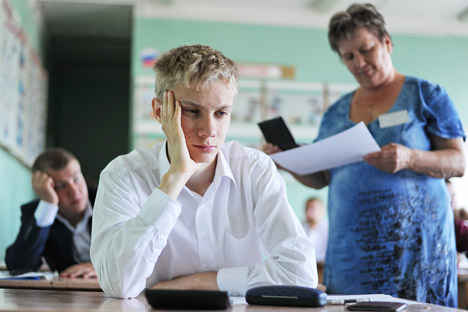 The problem of students cheating at the exams has become even harder to tackle with the use of modern technologies. Source: ITAR-TASS
Government officials have reached an agreement with the most popular Russian social network, to monitor cheating on school-leaving examinations. During the 2013 exam session, they were able to close around two thousand groups in which students were trading exam answers.
On October 7, the Federal Education and Science Supervision Agency (Rosobrnadzor)—the government department that administers the Unified State Exam (USE)—announced on its website that it would be working with the social networking site VKontakte. Representatives from VKontakte promised that in 2014 they would block the circulation of USE questions and answers. A group consisting of Rosobrnadzor representatives and VKontakte employees will be created in order to do this.
Meanwhile, during the 2013 USE session, around two thousand groups posting exam questions and answers on social networks were blocked. The vast majority of the blocked communities were on VKontakte, the most popular social networking site among young people. The strategy of Rosobrnadzor and the website looked simple: the government department sent a link to the forum and the social network blocked it, but only during the exam period.
However, the USE answers were leaked over the course of several days before the first Russian exam, and for every forum blocked, 10 more sprang up. The system the social networking site uses to eliminate illegal content on the request of an injured party has already revealed its shortcomings in the battle with pirated video.
Nevertheless, solving this problem is real: modern technology makes it possible to eliminate content while a user is uploading it. For example, for several years, YouTube has been successfully using Content ID technology, which prevents users from uploading pirated video, even if its name has been changed or it is authorized in segments. A similar internal solution could also be adapted in the case of the USE leak. For example, one could bar search results from a defined set of terms or create forums with a defined series of tags. However, Rosobrnadzor and VKontakte representatives have not stated whether or not adapted innovations are planned.
Yet among the many Rosobrnadzor proposals, there are still interesting ones from a technological perspective. For example, the government department intends to combine the 10 different information transmission systems in the state exam system into a single closed network. A possibility is that a dedicated program will track who receives and edits documents, and when and to whom they then transfer them. This approach is designed to combat leaking that comes from the government department itself and the Ministry of Education and Science, which oversees it.
Students themselves say that they have been able to purchase test questions and answers. For example, pupils at a Moscow school pooled their money to buy USE answers: the answers for Russian and mathematics tests cost 70,000 roubles ($2,300), and they split this so each student ended up paying 2,000 roubles ($67) each. One of the students received USE answers of all the existing possible tests directly from his teacher, who had participated in creating the tests, or through him from government officials he knew.
It turned out that the versions of the Russian exam that were sent were identical to the original, and one of the sections of the mathematics test contained an assortment of questions from different versions. Then, it was a matter of technique: the most diligent students simply memorized the answers to the difficult problems while the laziest made crib sheets.
The latter acted in a masterful way: teachers at one of the schools in the Moscow region said that they could not catch students in the act even though "there was a definite sense that they were cheating." "They were probably using some sort of newfangled technology," the teachers guessed.
In fact, a basic Yandex search yields numerous technologically advanced cheating methods: from pens with invisible ink and miniature Bluetooth headsets, to iPods that can save images and be worn on straps like watches, to vibrating speakers that turn an ordinary desk into a speaker—you can put your ear down and listen to the answers. VKontakte itself carries numerous ads for Escowatch—"a unique watch that will let you stop worrying about passing exams." Exam answers can be uploaded onto the watch's memory with a conventional USB flash drive.
However, in practice things are much more prosaic: the modern student's best friends are still the classic paper "crib sheet" and the commonplace smartphone. To deal with the use of smartphones, many schools have installed "jammers" of mobile connection signals. However, such jammers do not reach school restrooms. The restroom stall is the most comfortable and popular place for looking over the "crib sheet" one brings in and for calling a friend for help.
All rights reserved by Rossiyskaya Gazeta.