6 killed, 28 injured in Volgograd bus explosion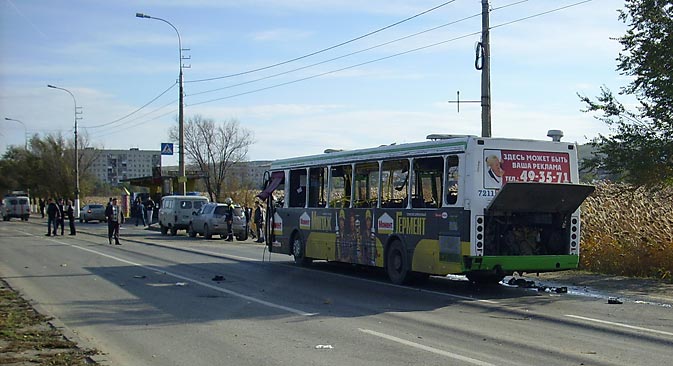 The explosion occurred on a bus in the Volgograd Krasnoarmeisky district. Source: RIA Novosti
As the Russian Investigative Committee has opened a criminal case on the counts of terrorism over the explosion on a bus in southern Russia, early reports point at a militant leader's wife as the executor of the attack.
The press service for the Investigations Committee has reported that six people were killed and twenty-eight victims hurt after a bomb went off in the city of Volgograd in the the south of Russia. "Six bodies have now been found," the press service told Interfax.
According to the Volgograd regional government spokesperson Yekaterina Golod, another 28 people were injured in the explosion. "Twenty-eight people have been hospitalized. Twenty-seven of them are in serious condition and cannot be transported. One has a slight concussion," she said.
Video of the explosion (in Russian). Source: YouTube
The Russian Investigative Committee spokesman Vladimir Markin confirmed that a criminal case over the explosion was opened on three counts, including terror attack.
"The criminal case has been opened under articles 205 (terror attack), 105 (murder) and 222 (illegal arms turnover) of the Russian Criminal Code," he said.
Detectives from the committee's central staff were sent to Volgograd to assist their colleagues.
The attack was presumably carried out by a female suicide bomber, a spokesman for the Volgograd region's top investigative agency said citing preliminary data. "She adopted Islam recently and she was a militant leader's wife," he said. The spokesman added that her documents were found not far from the crime scene.
According to a source from the Dagestani law enforcement authorities, the police are currently verifying information that a resident of Makhachkala and the wife of a militant, might have carried out the terror attack.
"We are checking information that Naida Asiyalova, the wife of Muscovite Dmitry Sokolov, might have committed the suicide attack. Police records say they were studying together at a university in Moscow. She recruited him - Sokolov then moved to Dagestan and turned into a militant. He is now wanted as a Makhachkala ring member," the source said.
The yet undefined explosive device used in the attack was detonated at 2:05 p.m. on Monday. The explosion occurred on a bus in Volgograd's Krasnoarmeisky district, Emergency Situations Ministry official Irina Rossius said.
She added that the Emergency Situations Ministry's rapid reaction forces have arrived on the scene. The rescuers have been helping doctors take the wounded victims to the city's hospitals.
Based on materials from Interfax.
All rights reserved by Rossiyskaya Gazeta.