Experts propose amnesty for Russia's illegal immigrants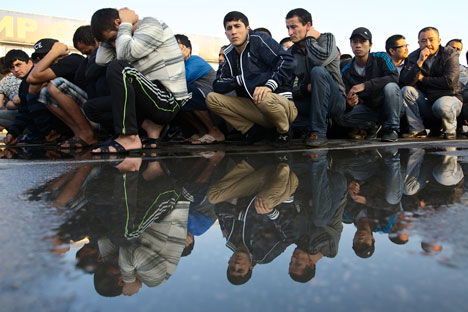 Migrant workers currently account for 7.56 percent of the Russian GDP. Source: AP
Immigration conference suggests to Russian authorities that it's far more cost-effective to legalize immigrants than to deport them.
A panel of experts on immigration participating in a recent Moscow conference are suggesting that Russia implement an "immigration amnesty" that would help both the Russian economy and resolve some of the heated issues of illegal immigration at the forefront of Russia's domestic politics in recent months.
Experts at the Unity in Diversity international conference on migration and interethnic relations that was held in Moscow said it would be far more beneficial to legalize illegal immigrants rather than to deport them.
According to Olga Gulina, the head of the Institute of Migration Policy, European countries have long discovered that deportation is too expensive. That is why one of the possible ways of changing the situation could be an "immigration amnesty" to be developed, taking into account the experience of countries which have already conducted it, like the United States, Greece, Italy, France and Australia.
An "immigration amnesty" envisages a mass legalization of immigrants, provided a number of conditions are met: an immigrant must have an employment contract, must register with the tax service and must get an individual taxpayer's number (INN). For its part, an employer must obtain a migration policy for its employee that would include medical insurance, third-party insurance, and cover the cost of deporting the migrant worker in question should they break Russian laws.
An "immigration amnesty" will be in employers' interests too since they will no longer have to pay any intermediaries and corruption will be taken out of the equation, experts suggest. While migrant workers will start paying taxes into the Russian budget. Experts point out that, apart from everything else, immigrants will value their legal status, which will bring the number of violations and crimes down, too.
Migrant workers currently account for 7.56 percent of the Russian GDP (or 8,250 billion rubles). Furthermore, Russia will soon have to deal with the consequences of the demographic crisis of the 1990s, when the population shrank by a million a year. It is expected that by 2050, there will be a 10-million-strong shortage of labor force, which confirms that the Russian economy needs migrant workers in order to develop.
Hence the need to refocus the country's migration policy: experts believe that business in Russia should operate "in the open" and migrant workers should be granted legal status.
The Federal Migration Service has recently submitted a draft law to the State Duma which proposes replacing migrant worker quotas with limits for each sector of the economy. If the bill is adopted, the cancellation of quotas will cut administrative barriers and put an end to the corrupt practice whereby intermediaries take on migrant workers in exchange for bribes. For example, if the construction sector gets a limit of 30 percent of migrant labor, a construction company can give 30 out of each 100 jobs to foreigners. However, it is not quite clear how these limits are to be calculated.
Yet, the most acute problem is what is to be done with migrant workers already in Russia. Nobody knows for sure how many are currently living in the country. Approximate data vary from 3.6 million to 11 million people, most of who work in Russia illegally.
The head of the center for interethnic relations studies under the Russian Academy of Sciences' Institute of Sociology, Leokadiya Drobizheva, proposed setting up adaptation centers for immigrants, where they will be taught not only the Russian language and basic Russian laws, but also Russian traditions and customs in order to defuse some of the irritation they provoke among the local population.
The head of the research center for socio-economic population studies under the Moscow Psychology and Sociology University, Olga Vorobyeva, believes that "the authorities themselves are breeding illegal immigration." Excessive demand in migrant labor, the expert points out, is the result of an inefficient economy.
"One could introduce quotas, limits, put up barbed wire, but immigrants will continue to come because there is work for them here and they are wanted," Vorobyeva said.
Based on articles from Kommersant and Moskovsky Komsomolets.
All rights reserved by Rossiyskaya Gazeta.