Secrets from the Kremlin's kitchen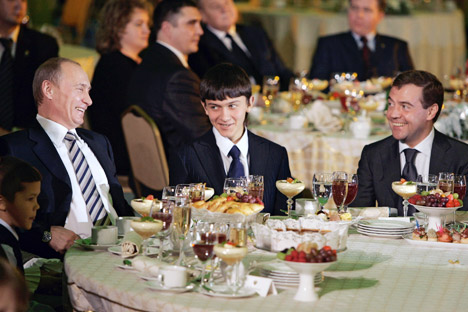 The Kremlin's kitchen is the country's most important kitchen. Source: Dmitry Astakhov / RIA Novosti
Russia's Head Chef Viktor Belyaev talks about his journey to the Kremlin and his special interactions with Indira Gandhi and other world leaders.
The president of the Russian National Guild of Chefs Viktor Borisovich Belyaev has fed Russia's most important people for more than 30 years. He was able to teach Indira Gandhi how to cook noodles and even had an interesting experience with Richard Nixon.
His path to the most important kitchen in Russia was rather unusual. At first, the future chef wanted to become an archivist, but then he noticed an advertisement on the doors of a cookery college. The Moskovskiy Komsomolets newspaper was inviting future students to study cookery. It turned out that students at the college were paid a sizeable grant.
Viktor Belyaev. Source: Press photo

The chef described his work placement at the famous Moscow restaurant Pravda as his first miracle. To begin with the future Kremlin chef had to spend a great deal of time carving meat and fish, and cleaning potatoes. He ended up serving at a banquet in the Kremlin and was invited to work there permanently.
"I had a cookery teacher, Zinaida Vasilyevna and she was very kind to me because I had somehow learnt very quickly how to cook some very fine solyanka and so on," Belyayev said. "Her uncle was the director of catering in the Kremlin. It was thanks to Zinaida Vasilyevna that I ended up not in the worker's refectory but in the Kremlin's speciality kitchen itself. At that time there were two imperial kitchens: an exclusive kitchen, which fed the members of the Communist Party's Politburo – and a speciality kitchen for members of the Government. I ended up in the speciality kitchen. This was a separate and absolutely astonishing operation. When I first went in there, I saw gas stoves from Goebbels dacha, spread over 10 metres, they were subsequently converted to electricity. I worked there for 14 years."
This speciality kitchen had to prepare for large and small functions on a daily basis. "I fed Fidel Castro, Margaret Thatcher, Indira Gandhi, Nixon, Kohl, Carter, and Giscard d'Estaing, the list is truly exhaustive. It was interesting. Firstly because of the people and secondly because we learnt about foreign cooking," Belyaev said. "The advance parties would arrive first, the protocol officers and the doctors. We were told who liked what, who was healthy, and who was suffering from chronic diseases. Representatives of Arabic countries however were very different because they would not eat our own soups and dishes, embassy chefs would arrive and we would learn how to cook national dishes. When Chinese delegations came to visit, trepangs would be brought up to the kitchens, which we would also have to prepare, but we did not learn all this in one go."
The chef said foreigners loved Russian cooking and several of them even asked for recipes. "'Indira Gandhi loved how I cooked egg yolk noodles, she came into the kitchen and asked for the recipe. Then, a few months later she arrived for some sort of forum and I was on shift. She specially approached me and said that her family had enjoyed the dish so much, she made it herself and it was really something special," Belyaev recalled.
The chef also recalls an incident that surprised him when Richard Nixon visited the country. The American leader refused to eat the beautifully laid out hors d'oeuvres, and just photographed them instead.
At one time Viktor Borisovich Belyaev decided to try his luck overseas, and left for Syria with his family and what an experience it turned out to be! There were shortages of black bread, kefir, and herring, and the climate did not suit him. He did not enjoy standing in a kitchen in 50 degree heat. He returned home. This time he ended up at Stalin's Kuntsevo Dacha. Some sort of a guest-house had been built there for the first President of the U.S.S.R. Mikhail Gorbachev: this was a 3 storey house with a study, a library, a restaurant and rooms for 8-10 guests. Belyaev was sent there as director of catering. As he redecorated the empty building, which did not even have any curtains inside and welcomed delegations that visited Stalin's dacha as they would a museum, protests began against privileges. Gorbachev never even went there even once, and the dacha was closed.
Gorbachev was in turn replaced by the first President of the Russian Federation Boris Yeltsin, and Belyaev returned to the Kremlin. The holding company Kombinat pitaniya Kremlyovskiy was established, which he led for 8 years. He retired in 2008 following a heart attack: He had worked in the country's most important kitchens for 32 years.
All rights reserved by Rossiyskaya Gazeta.