Moscow metro station offers a free ride for leg squats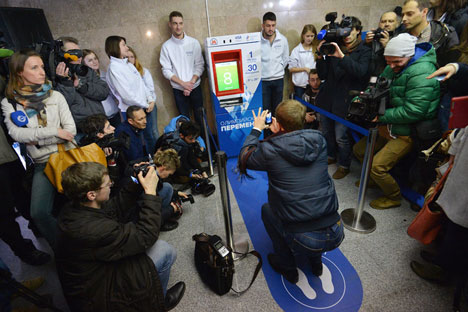 A ticket to the subway for 30 squats. Source: Ramil Sitdikov/RIA Novosti
The Vystavochnaya station is offering a special promotion granting tickets to riders who can perform 30 leg squats.
In need of a metro ticket but short on cash? Well if your thighs can withstand doing 30 squats in a row, you could be on your way to the next station soon.
The Moscow subway station "Vystavochnaya" is offering a special promotion granting tickets to riders who can perform 30 leg squats. The station has set up a machine that issues tickets for participants with an Olympic symbol on it in return for the athletic endeavor.
The promotion's objective is to encourage athletic lifestyles. A correspondent from Russian Reporter stood in line to experience the savory hint of athletic glory…and get a ticket for a free ride back to the office.
Source: RT / Youtube
— "Now, can you imagine if such machines appear at all stations! We'll become the most strong-legged city on earth," said a young man in a yellow shirt. He and his friends were waiting their turn to squat for a ticket.
While I stood behind two girls, I overheard:
— "Do you really want to do squats?"
— "Yeah, why?"
— "You want to walk with a red face afterwards?"
Thunderous applause interrupted. A 7-year-old boy just got his ticket. A girl in high heels readied to squat. Flailing and waving her arms, she slowly completed the Olympic norm. The crowd cheered, the girl hollered in delight and squeezed the ticket to her chest, as though at any moment she would thank her mother, father and all her relatives whose thoughts were with her at the critical moment.
— "Gotta break the record," a young man in track pants said.
— "Let's do 30 seconds," suggested his friend. Two minutes are allowed for the squats. So far all have managed. The record-breaker in track pants started to convulsively squatting. The machine didn't register his abrupt movements. The record stands.
—"It's free!" I heard a delighted voice from the queue say. "A national treasure!"
After the record-breaker a stalky older man began exercising. He squated 30 times, but didn't leave. After receiving his ticket, he readied himself and began squatting again.
— "Sir, only one ticket per day!" exclaimed the machine operator in a white coat with the Olympic symbol. "Come back tomorrow!"
- Too late – the man continues squatting, but the operator resets the machine and the offender retreats.
- The queue at the machine slowly dwindles.
- Alright, good luck! – the college student ahead of me caustically cheers on her friend – I'll post on "VKontakte" the most unflattering pictures.
- The photo session is marvelous. The student's face indeed turns slightly red.
Now it's my turn. I stand before the machine. Ten squats – no problem. 20 – my legs begin to disobediently ache. 25 – more difficult. 30 – victory! I take my ticket receiving languid applause: apparently, I performed the exercises less than elegantly. The ticket appears no different from ordinary ones except for the "Sochi 2014" logo.
First published in Russian in Russkiy Reporter.
All rights reserved by Rossiyskaya Gazeta.