Art therapy comes to the aid of prisoners, conscripts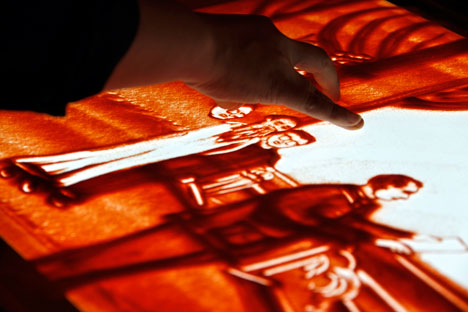 Experts in Russia use all types of art therapy, including painting, sculpture, acting, music, and dancing. Source: Reuters
To deal with depression, psychologists have decided to use sand art therapy for inmates and fairy-tale therapy for fresh draftees in the army.
Traditional psychotherapy methods have yet to gain mass popular support in Russia. Although the number of therapists and private practices offering counseling services is growing, there still is no established tradition of turning to them for regular help.
Yet the armed forces and the penitentiary system in Russia are beginning to use of art therapy to work with their population.
The Russian Federal Penal Service has launched a "sand experiment" in prisons in Krasnoyarsk Territory. Psychologists have decided to use sand art therapy in their work with the most difficult inmates: those who suffer from various phobias, who are withdrawn, depressed, or cannot come to terms with their circumstances.
Psychologists believe that working with sand can help one get rid of many negative emotions. Inmates are invited to try sand animation, modeling various life scenarios. The first results of the experiment, as reported by the Moskovsky Komsomolets newspaper, have shown that after sand therapy, inmates become more open, more friendly, more confident. Many of them have become noticeably less aggressive and are now helping their fellow inmates. According to their own account, tactile contact with sand provokes a wave of positive emotions. Some of the inmates who took part in the experiment have displayed a real talent and will now have formal training in drawing.
According to Oksana Mikhailova, a practicing art therapist and the head of an art therapy studio called Drawing with Sand, working with sand is indeed a very effective instrument that is often used to help people to open up.
"It will be useful for inmates since all crimes happen for a reason. With the help of this method, one can identify those internal triggers, understand oneself better and find harmony. Besides, life in prison is hard and working with sand can help one to relax," she explained.
"We all have internal censorship, which prevents us from understanding the root of our problems, whereas sand castles or sand animation help one to circumvent that internal censor," she continued. A therapy sandpit costs next to nothing: all it takes is a 50x70 cm pit with sand and a large collection of molds covering a variety of scenarios.
At the same time, Mikhailova admits that these methods are likely to be met with a lot of skepticism in prisons at first.
That was exactly the reaction voiced by a human rights activist, head of the GULAGu.net project Vladimir Osechkin. He is convinced that inmates should first be provided with decent living conditions, should be paid decent wages for the work they do, should be given an opportunity to do sports and so on. Otherwise there is nothing that a psychologist can do to help them. "If a person has been hunted by dogs or he has to clean toilet bowls with his hands or do some other degrading work, how can a psychologist possibly help him? First, the penitentiary system must become more civilized. Only after that we can discuss anything else," he said.
And yet, even before the system has become "more civilized," inmates are regularly engaged in art therapy, although it is not always identified as such. These sessions often involve music or painting. While prisons in Irkutsk Region for instance have for three years now been offering their inmates master classes in icon painting.
Art therapy is put to use in the armed forces, too. Experts have noticed that young conscripts are particularly affected by fairy-tale therapy. To help new recruits to adapt to the hardships of military service, psychologists at the Caspian Flotilla, in addition to traditional methods and tests, use drawing, painting, graphic arts as well as fairy tales.
As head of the philosophical anthropology and art therapy department at the Institute of Psychology and Pedagogy, Vladimir Nikitin explained that fairy-tale therapy is an effective method of resolving difficult situations whereby a person not only listens to fairy tales but invents them, too.
"Yet, it is not enough to invent a story or build a sand castle. It is necessary to make the right psychological emphasis. An image created at a session like that remains in the person's consciousness and may later provoke either positive or negative feelings," he said.
Experts in Russia use all types of art therapy, including painting, sculpture, acting, music, and dancing, Nikitin said. The most common form of art therapy is drawing. It is most frequently used when working with children. For example, UNICEF and the Pushkin Museum of Fine Arts have jointly implemented one such project for children from a social rehabilitation center Krasnoselsky.
Art therapy is used for treating various psychological conditions and problems as well as for individual development. All these methods are used not only by psychologists and doctors but also by teachers, social workers and culture figures, Nikitin said
All rights reserved by Rossiyskaya Gazeta.