Former Russian Defense Minister faces negligence charges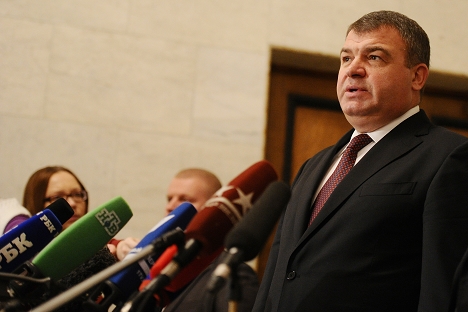 Serdyukov may face up to one year of corrective labor. Source: ITAR-TASS
As investigators look into accusations former minister Anatoly Serdyukov caused a $1,750,000 damage to the state, experts warn tougher charges might await him.
A criminal investigation for negligence has been opened against former Russian Defense Minister Anatoly Serdyukov. He is currently facing up to one year of corrective labor or a three-month arrest, but experts suggest the charge might be changed to a more serious one during the course of the investigation.
Over the past year, Serdyukov has been involved as a witness in the "Oboronservis" corruption case, which allegedly caused a $7 billion damage to the state.
The case was initiated after it was discovered that Ministry of Defense officials had sold real estate properties to companies and individuals, severely understating their price.
During the investigation, fraud charges were brought against Evgenia Vasilyeva, a close friend of the former Minister, and observers expected that Serdyukov, quickly removed from his post as minister, would not be able to avoid serious charges.
According to the investigators, while still a minister, Serdyukov verbally instructed his subordinates to build a highway to a recreational center in the Astrakhan region, in southern Russia, using funds from the ministerial budget. In addition, construction works were also allegedly performed in the area at Serdyukov's orders.
"Landscape gardening works were carried out by conscript aviation soldiers, and the highway was built by a railway troops battalion," reports the spokesman of the Investigative Committee of the Russian Federation Vladimir Markin.
According to the committee, soldiers were removed from military tasks to plant trees and build roads, causing the state a damage amounting to more than RUB 56 million ($1,75 million).
Additionally, the building of the recreational zone and the road were not accounted for in the 2013 Ministry of Defense budget, and the expenses were only added to the balance sheet after the criminal case was launched.
However, there are rumours that the criminal case against Serdyukov might soon be reclassified.
The deputy head of the Fair Russia faction in the State Duma Mikhail Emelianov believes that, in addition to the negligence charges, new accusations might be laid against Serdyukov. "I think that the case is not limited to this episode," said Emelyanov.
Based on materials from Newsru.com, RIA-Novosti, RBC, ITAR -TASS.
All rights reserved by Rossiyskaya Gazeta.