New media conglomerate to appear in Russia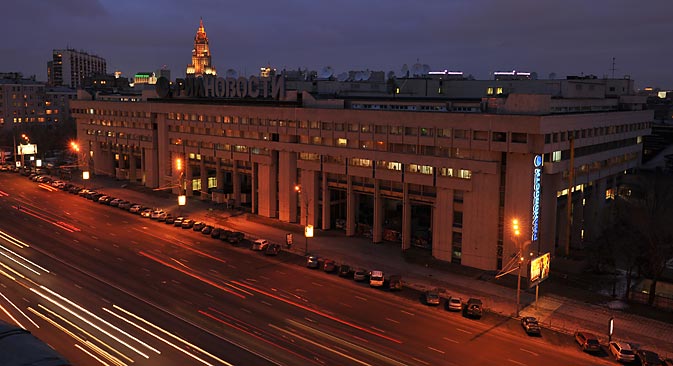 RIA Novosti to be replaced with Russia Today news agency. Source: RIA Novosti
Putin signs a decree sanctioning the creation of a new agency aimed at improving Russia's image abroad.
Russia is due to establish a new media agency tasked with shaping the image of the country among foreign audiences. The new structure will be the result of a merger between the media outlet RIA Novosti and the radio station Voice of Russia.
According to experts, the move might have been dictated by the desire of the authorities to inform the world community about Russia on a daily basis and promote its own agenda.
On Dec. 9 President Vladimir Putin signed a decree abolishing RIA Novosti and creating in its place a new organization, which will be called "Rossiya segodnya" (Russia Today).
The agency will be headed by former TV anchor Dmitry Kiselev, who has previously served as assistant general manager of the All-Russia Television and Radio Company.
According to Sergei Ivanov, head of the presidential administration, this reorganization of state media is aimed at improving efficiency and reducing costs.
It is not yet clear how Russia Today will interact with the eponymous RT TV channel (Russia Today), which broadcasts in English, Spanish, and Arabic. The presidential decree does not call for a formal merger between the two organizations.
As explained by Nikolai Svanidze, a member of the Public Chamber and TV anchor, the Kremlin is concerned with promoting Russia abroad and decided to solve two problems at once.
"Currently the country's leadership spends a lot of time on foreign policy and Russia's image abroad, so they decided to create a new agency similar to Russia Today TV channel," he said.
In addition, according to the TV anchor, the leadership of the news agency was professional, but not easy to control, so it is being replaced by a new agency.
Leonid Polyakov, head of the Department of General Policy of the Higher School of Economics, believes that the decision to create a Russian news agency for foreign audiences is very timely.
"One of the country's key objectives is to educate the world community about itself. The world is global and the image of the country is very important, both politically and economically. And if the country doesn't try to shape its own image, others will, which is difficult to control," the expert explains.
"The informational muscle of RIA Novosti should be directed out towards the rest of the world, which is now dominated by foreign media. This new agency should not compete with them, but just provide information about Russia, mold an image of the country and set the agenda."
All rights reserved by Rossiyskaya Gazeta.