Russian bill would allow national airlines to hire foreign pilots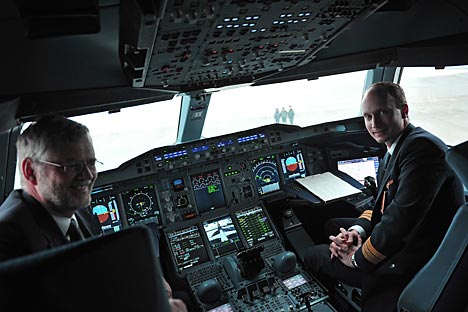 The amount of air travel in Russia is growing quite considerably, by 13 percent to 15 percent every year. Experts say Russian pilot schools are unable to keep up with that growth. Source: RIA Novosti
Russian airlines may be allowed to hire foreigners to address shortage of homegrown pilots.
The government has submitted a draft law to the State Duma allowing Russian airlines to hire foreign pilots to alleviate an acute shortage that could compromise the safety of air travel.
The government's decision to open Russian civil aviation to foreign pilots has been driven by several reasons. In particular, to give Russian airlines a non-discriminatory status within the Eurasian Economic Community and the CIS, according to a note to the draft law.
In addition, Russian Transport Minister Maksim Sokolov, whose ministry drafted the bill, explained that during the last four years the number of passengers using Russian airlines had nearly doubled, from 45 million to 83 million.
The main reason however is to address a shortage of qualified flying personnel, primarily captains. The amount of air travel in Russia is growing quite considerably, by 13 percent to 15 percent every year (compared to 4 percent to 5 percent globally).
However, Russian pilot schools are unable to keep up with that growth. For example, between 1995 and 2007, they issued certificates to 150 to 200 civilian pilots a year, whereas the industry's annual requirement is estimated at 1,500 pilots. The situation with pilots qualified to be captains is even worse.
The ability to hire foreign pilots would enable Russian airlines to fill the gap. If the law is passed, it will remain in force until January 1, 2019.
"Given a rise in demand, some airlines are forced to work their pilots very hard, up to violating the norms setting a cap on the number of flights a pilot can have a month or a year. The authors of the bill expect that five years would be enough to tackle the acute shortage and after that to rely on pilots trained in Russia," the head of the Aviaport research service, Oleg Panteleyev, said.
A representative of the UTair airline said that following an expansion of the company's fleet, it was hiring captains and retraining its existing pilots, with the main selection criteria being experience and qualification rather than citizenship.
First deputy managing director of Transaero Dmitry Stolyarov said the company had no shortage of flying crews but he saw no point in restricting recruitment with quotas.
Aeroflot also is in favor of allowing foreign pilots to work in Russia since the existing ban results in a disproportionate rise in pay. If it could hire foreign pilots, the company would have time to train captains from among copilots, who at the moment are unable to gain the relevant experience due to the shortage of captains. If the law is past, Aeroflot is ready to hire captains from CIS countries and from major foreign airlines.
However, the Sheremetyevo Trade Union of Flying Personnel said it was opposed to the bill. "Recruitment of foreigners will affect safety of flights. I doubt that pilots from leading world airlines will come to work for Russian companies: top-class captains are in great demand all over the world. Besides, they are unlikely to be satisfied with the terms and conditions offered in Russia," said Igor Obodkov, an aide to the trade union president in charge of public relations.
Vladimir Gerasimov, a pilot first class and an associate member of the International Academy of Human Problems in Aviation and Space, said American and German pilots are very well-trained, but at the same time they are very well-paid too and the benefits package there is much better than at Russian airlines. Meaning that Russia could see "an influx of pilots from CIS countries."
The Delovaya Rossiya (Business Russia) public organization said that it is concerned Russia will be "inundated with second-rate pilots, while top-class captains will remain in their home countries."
The only way to resolve the problem is to develop the Russian network of pilot schools. Although here, too, new problems arise. The president of the Russian trade union of pilots, Miroslav Boychuk, said that his trade union had received complaints from some 300 cadets at the Ulyanovsk Higher Civil Aviation School that some airlines refused to hire them in view of the Transport Ministry's plans to allow the recruitment of foreign pilots.
"This initiative runs counter to the policy of the state, which presents itself as a welfare state and a state that defends the interests first of all of the country's native population," Boychuk said.
Based on materials from RIA Novosti, Gazeta.ru, Kommersant and Solidarnostj newspaper.
All rights reserved by Rossiyskaya Gazeta.