Calls grow for sex education in schools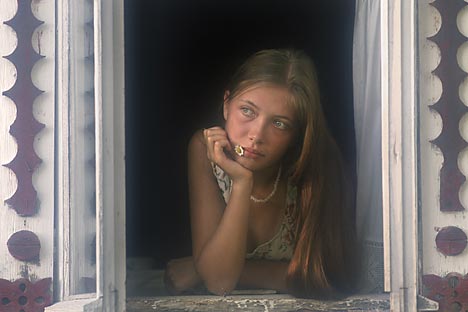 Experts say that teenagers clearly lack knowledge on preventing unwanted pregnancies, and they are aware of their own ignorance. Source: RIA Novosti
Opinion is divided on when such teaching should start. When it comes to questions about reproduction, one in two people surveyed favor starting with children younger than 14.
The concepts of "child-mother" and "child marriage" sound absurd and even uncivilized. However, today they are part of reality and the phenomenum is prompting Russia to open discussions about sex education in schools.
In the first such study in its history, Russia has completed a large-scale national representative survey on Russian women's reproductive health, taking data from 60 regions.
According to the study, the United States has the highest "childhood pregnancy" index among developed countries. This index is also fairly high in Russia, but the Russian index is lower than that for eastern Europe and higher than that for western Europe.
In Russia, women can get abortions on their own volition up to 12 weeks into pregnancy; up to 22 weeks in case of rape; and at any time in case of medical necessity. Abortions (at least, surgical ones and miniabortions) are included in the mandatory health insurance and are free.
"The surveys showed that women in the youngest group of respondents have a different approach to their health, including reproductive health, from respondents in the other age groups," said Irina Troitskaya, a senior researcher at the Center for Population Studies of the Economics Department of Moscow State University. "Only half (53 percent) of respondents had visited a doctor within the previous 12 months; 13 percent had postponed a visit to the doctor."
The study was conducted by Rosstat (the Russian Federal State Statistics Service) and the Ministry of Health of the Russian Federation in cooperation with and with funding from the United Nations Population Fund.
In Russia there has been debate for some time about whether or not sex education should be taught in school. The surveys revealed that today's pupils need such information: 88 percent favor having sex education classes in order to learn how pregnancy occurs (87.8 percent); what kinds of sexually transmitted diseases exist (87.6 percent); and what contraceptive methods exist (87.4 percent).
Opinion is divided on when such teaching should start. When it comes to questions about reproduction, one in two people favor starting with children younger than 14 years old; 43.5 percent suggest starting this course when children are between 14 and 15; and 6.5 percent would like to see it given to children 16 and older.
Nearly one in 10 women think that schools need to offer a sex education course, citing the following reasons: schoolteachers are inadequately trained to lead such classes (8.1 percent); sex education influences teenagers to become sexually active earlier (7.1 percent); sex education must be conducted only at home (6.2 percent); and sex education conflicts with religious views (1.1 percent).
Experts stress that teenagers clearly lack knowledge on preventing unwanted pregnancies, and they are aware of their own ignorance.
"School could become the main source of information about gender relations," said Troitskaya. "The study showed that 85 percent of respondents favor the idea of including issues about gender relations in the school curriculum."
The arguments of opponents of sex education also have some force. The availability of qualified teachers, like the development of a high-quality curriculum and the creation of textbooks, is an essential prerequisite for including the subject of gender relations in the school program.
Abortion figures are also an indicator of the hygiene and the material prosperity of a population, researchers say. In Russia in 2011, there were 26.7 abortions per 1,000 women of childbearing age. According to data by Rosstat, abortion numbers have started to fall. The birthrate has risen, and for the first time in recent decades, it is equal to the total mortality rate.
The study showed that in rural areas and in Moscow, girls (on average) are becoming sexually active, getting married and having children earlier than in other metropolises and cities.
In addition, the less educated and poorer they are, the earlier they engage in these activities. Conversely, the higher their education level and financial prosperity, the more cautious they are: they become sexually active, get married and give birth later.
First published in Russian in Moskovsky Komsomolets.
All rights reserved by Rossiyskaya Gazeta.