Taking precautions on Moscow's metro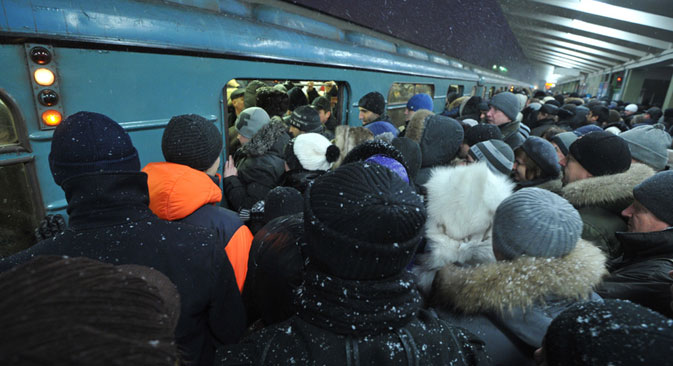 Robbers on the metro normally operate quickly and typically have their own places of work – stations with a high volume of passengers. Source: PhotoXPress
The Moscow metro is relatively safe, but pickpockets, thieves and drunken travellers can darken an unwary passenger's mood. However, you can avoid incidents like these by following some simple rules.
According to statistics from the Directorate of Internal Affairs, 290 robberies took place on the Moscow metro in the first 10 months of 2013. Only 182 of these were solved.
For a thief the most important thing is surprise, so they can grab a bag, mobile phone or tablet in the last second before the metro door closes, jump out of the train and get away.
Experts advise that you don't stand close to the doors, sit in the middle of the carriage, hold onto your belongings when the doors are open and never fall asleep while traveling. Furthermore with the advent of video cameras, life has become much more complicated for a snatcher on the metro, you are now more likely to encounter robbers.
"I got in the train, and all of a sudden some people started to surround me and block my way," said Lena Shakespeare, a teacher at the International School in Moscow. "I couldn't understand what was going on, and only when I jumped out at the next station did I notice that my bag was open. I was lucky though, I still had everything with me."
Robbers on the metro normally operate quickly and typically have their own places of work – stations with a high volume of passengers. Pickpockets work in pairs, transferring the loot between themselves so it is very difficult to catch them with the loot in their possession. In 2013 there were 1,550 thefts on the metro, and 308 people were arrested.
"Never carry wallets and mobile phones in breast or back pockets," said Sergey Pyatenko. "Hold handbags or rucksacks in your hands in front of you. Moscow pickpockets are virtuosos, they have a knack of stealing a notebook and replacing it with a book, which weighs the same."
It is difficult to pick out a thief in a crowd: they are dressed normally and could be as young as 15 and as old as 70. They could be men or women. The most reliable sign, say the specialists, is a shifty look.
Be particularly aware at metro stations close to mainline stations, such as Komsomolskaya, Kurskaya, Paveletskaya, Belorusskaya, or Kievskaya, and at large junction stations such as Biblioteka im. Lenina and at terminus stations.
"Pickpockets usually operate during the rush-hour, when it is quite difficult to track and arrest them," said Aleksandr Lipatov, the deputy chief of police on the Moscow metro.
An unpleasant encounter
"Drunks are a serious problem," said Ian Bird, the director of the International School in Moscow. "When we train our staff, we encourage them to walk away from a conflict arising from any misunderstanding, especially when it is obvious that the person has been drinking. A foreign language itself can give rise to aggression."
If you notice a drunk, don't attract their attention say the experts. If you are in contact with them don't voice your disapproval. "Think about what you wear in Moscow," Lena Shakespeare said. "If someone looks like a tourist they are more likely to attract the attention of criminals."
Don't forget: it is not worth sitting in an empty carriage. You could find yourself in company that you don't want to mix with.
An unpleasant incident
These are rare but nevertheless they do happen. If you fall onto the rails, don't be alarmed. Don't try to climb onto the platform, as this is where the live rail is. Walk in the direction of travel to a white triangle at the foot of the platform where the train stops, there is usually a ramp at that point.
If you are not able to reach the white triangle before the train comes, lie down between the rails immediately, pulling the folds of your clothes tightly towards you.
Who can help?
Moscow metro staff is on hand at every station as well as duty police officers to whom you can turn if anything untoward happens. In terms of response, police on the Moscow metro have become more responsive, however bureaucratic procedures could take several hours.
Don't forget as well that the police don't have interpreters. "Learn Russian," Shakespeare said. "It's only the young people that can speak English."
All rights reserved by Rossiyskaya Gazeta.