Harassment against women in the workplace in Russia: myth or reality?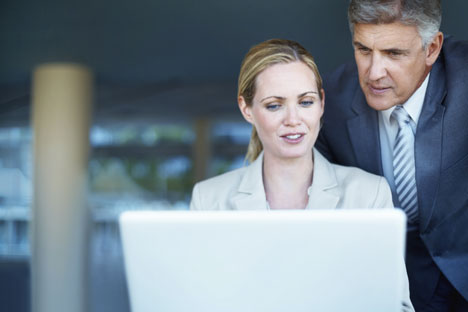 A woman who set her mind on making a career faces a number of challenges along the way. Source: Getty Images / Fotobank
The country's attitude towards sexual harassment is ambivalent with many initially believing it to be a fantasy of Western feminists. Of late, an increasing number if people have recognised its detrimental effect and believe the issue needs to be addressed.
"Harassment against women at the workplace? It might be an issue elsewhere but there is no such thing in Russia!" That is what I often heard from my male friends when I mentioned the problem of sexual harassment at the workplace in Russia. I'd be happy to believe them but statistics state otherwise. According to a 1999 poll, 25 percent of Russian women were subjected to harassment by their male employers or colleagues. Further surveys conducted by the Levada Centre and Social Research Strategic Centre confirm this number.
In my work experience I personally know women who were approached by their employers and promised a promotion in exchange for sexual favours. When they declined the men in question warned that their refusal could cost them their jobs.
One of these women managed to prove her professional worth, and the offender had to give up his attempts. The other woman was subjected to such severe harassment at her workplace that she was forced to quit the job. Now she works in a different company with stronger moral principles, and she feels respected and appreciated for her professional qualities.
Both of my acquaintances found good jobs later thanks to their strong character and professional achievements, but imagine what they had to go through before that and how many women have to struggle before finding a new job especially if a vindictive employer gives them bad references.
I can recall a number of harassment cases at the workplace, some of them subtle, others evident but all of them humiliating and destructive for a woman's career and self-esteem. However, in Russia this offence is not taken seriously.
The so called "minor" cases of harassment, when men make lewd comments about their female colleagues' looks and dress-style, or share offensive gender jokes in the presence of women, are often brushed off as insignificant. Usually, the victims see no point in complaining to a supervisor. The most probable scenario is that they would be laughed at and advised not to make a fuss about such trifles.
But in some instances harassment escalates and makes the working environment unhealthy and counterproductive for a victim. Unfortunately, even in such situations harassers are unlikely to be punished. It's more likely that female employees will be forced to make a choice: either to tolerate such treatment or to lose a job.
There is also no legal protection against harassment in Russia. The closest term to harassment is article 134 of the Russian penal code "On forcing to a sexual contact." But this is applicable for an extreme degree of harassment, and I believe most employees and employers would prefer not to go that far.
Apart from the legal issues, the 'blame the victim' mentality aggravates the problem in Russia. The responsibility for verbal or physical harassment is often shifted from an offender to a victim.
"She was dressed provocatively," "she behaved improperly" and "she led him on" are the most common arguments in defence of men committing sexual harassment towards women. Thus there is a common stereotype in Russia that appropriately dressed modestly behaving women don't run the risk of being harassed. This persistent myth results in reluctance of victims to speak up against offenders and leads to impunity for the latter.
But the situation with harassment in Russia seems to have moved from a standstill, and there are activists who stand up for women's rights and feminist institutions that struggle against this sad phenomenon.
One of the organisations that attracted much attention last year protesting against harassment of women in Russia is a feminist organisation called RosNahal. They suggested making an amendment to article 213 of the Penal Code of the Russian Federation introducing a penalty in the amount of 30,000 to 50,000 roubles or mandatory social work up to 480 hours for sexual harassment.
As a possible response to the RosNahal action, in September, 2012 the United Russia party initiated a draft on implementing a sexual harassment article in the Administrative Code of the Russian Federation. There is little information on the current status of the draft but it is known that it is not going to blindly copy the laws of the Western countries due to the difference of mentalities.
United Russia State Duma member Maria Maksakova-Igenbergs told the Izvestia newspaper that the RosNahal's intiatives were not left unattended. "In order to complain to the police a woman needs to have witnesses or video record of a harassment episode," Maksakova-Igenbergs pointed out. "It will not be possible to prove anything relying solely on her words. But this issue will be studied and worked through. No matter how strong are Russian women, they are still unhappy about people violating their private space borders."
Her United Russia colleague Gadjimet Safaraliev emphasised that there will be no blind copying of tough Western, in particular, US harassment measures, and Russian draft will be more lenient. "The mentality of our society is different from the mentality of the Western countries," Safaraliev said. "So I don't think that such severe punishment would be good for Russia."
All rights reserved by Rossiyskaya Gazeta.