Russia bans carry-on liquids on flights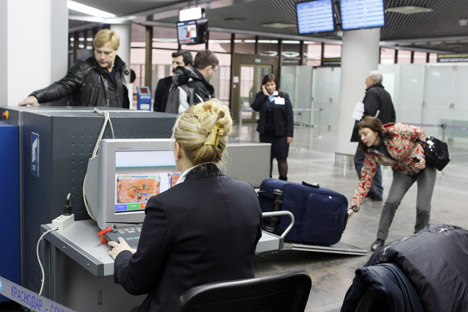 The ban was first communicated to passengers by the management of Vnukovo and Sheremetyevo airports. Source: Mikhail Mokrushin / RIA Novosti
The Federal Air Transport Agency says the measure is taken as a precaution because of the heightened threat of terrorist attacks ahead of the Winter Olympics in Sochi next month.
Russia's aviation regulator has imposed a ban on any liquids in carry-on baggage on passenger flights departing from all of the country's airports.
The Federal Air Transport Agency (Rosaviatsia) said the measure is taken as a precaution because of the heightened threat of terrorist attacks ahead of the Sochi Olympics, which are set to begin next month.
The agency said that it is not a ban but rather an "insistent recommendation" for passengers to carry any liquids in checked baggage.
Russian Transport Ministry to ban all liquids in carry-on luggage
Russian Minister of Transportation Maxim Sokolov said that he did not consider the regulation to ban all liquids in carry-on luggage to be discriminating.
The ban does not cover liquid medications and other liquids intended to sustain a passenger's functions in flight. However, such substances can only be taken on board after they have been inspected by airport security.
Rosaviatsia didn't specify how exactly security officers will perform such inspections. According to the Lenta.ru news website, representatives of Moscow's Vnukovo Airport have previously said that passengers will be allowed to carry medicines on board only if they produce the official prescription.
The ban was first communicated to passengers by the management of Vnukovo and Sheremetyevo airports, two of Moscow's three major airports. The Vnukovo information service explained that the measure would remain in force until the end of the Sochi Olympics on March 21.
Oleg Smirnov, the chairman of the civil aviation commission at the Rostransnadzor transportion watchdog, said he supported the ban and argued that air passengers can do without cosmetics in flight.
"We are preparing for the Olympics, which are of global significance. The government must attach paramount priority to the security of the athletes and their fans; this is why the ban has been introduced in all Russian airports. Passengers' complains are understandable but they should appreciate the security considerations," he said.
Smirnov said the ban is justified after a series of terrorist attacks in the southern Russian city of Volgograd in late 2013.
"It is difficult to say why liquids have been banned; perhaps the security services have found that some explosives can be disguised as liquids and carried onto passenger flights," he said.
"This is a temporary ban, it will be lifted once the Olympics are over. In fact, the security restrictions may get even more relaxed because the airport security system is coping quite well now."
However some experts said the liquids ban might not be needed. Alexander Ivanchenko, the chief executive officer at the Security Industry Association, said the ban is superfluous.
"I fly frequently and can compare the airport security measures in Russia and abroad. Airport security is quite decent in Russia, and Rosaviatsia's current ban is a forced measure because it is difficult to think of anything else to improve the security system," he said.
Ivanchenko added that many countries have been lifting restrictions on liquids in hand baggage. "This is more of a formality, because airport security is quite strict as it is and it is difficult to come up with any new effective measures," he said.
Until now, air passengers in Russia could carry up to 100 milliliters of liquids in their hand baggage, as well as unrestricted amounts of medicines and baby food.
All rights reserved by Rossiyskaya Gazeta.