Russian Orthodox priest meets Pussy Riot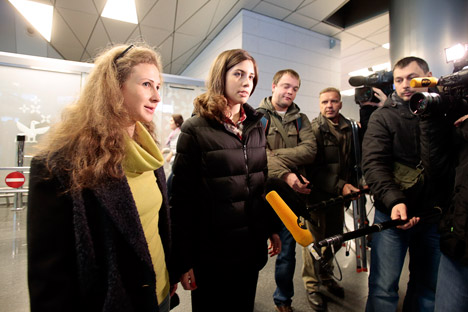 The freed members of the Pussy Riot band, Maria Alekhina (L) and Nadezhda Tolokonnikova. Source: Reuters
Russian Orthodox cleric sits at the same table with feminist activists behind the controversial "punk prayer" to discuss their future plans.
There will be no more controversial protest performances inside another Russian Orthodox church by the all-female band Pussy Riot, according to an outspoken Russian Orthodox missionary, who recently held a meeting with two of the band's recently released members.
Protodeacon Andrei Kurayev had a meeting with the freed members of the Pussy Riot band, Maria Alekhina and Nadezhda Tolokonnikova. After the meeting he said he was confident that they would never stage another protest inside a church.
Pictures published after the meeting show Kurayev having a cup of tea with Maria Alekhina and Nadezhda Tolokonnikova. Kurayev posted on his Facebook page after the meeting that he was glad that the women would seek to open churches in prisons and to help inmates. According to him, Alekhina and Tolokonnikova recognize that the church world had both diversity and change.
Immediately after Pussy Riot's controversial stunt at Christ the Savior Cathedral and during their subsequent trial, Kurayev's reaction was more lenient than the official position of the Russian Orthodox Church.
He condemned the Pussy Riot performance as "ugly and unacceptable from the moral standpoint," but urged mercy and forgiveness on the part of the church.
Kurayev himself has been in the spotlight recently. Late last year he was sacked from a teaching position at the Moscow Orthodox Spiritual Academy. He responded by saying that he had fallen victim to "the gay lobby."
Kurayev was referring to his blog post about a seminary in Kazan, where students had allegedly complained of sexual harassment from some teachers. Kurayev believes that he lost his post because he had made the controversy at the Kazan seminary public.
Vsevolod Chaplin, the Russian Orthodox Church official spokesman, insisted that Kurayev has never beer persecuted for ideological reasons. However, he often missed his lectures and violated internal regulations, which may have prompted his dismissal, Chaplin said.
Kurayev's meeting with Pussy Riot was organized by the Snob magazine.
Based on materials from BusinessFM radio station and Vedomosti.
All rights reserved by Rossiyskaya Gazeta.