At night Moscow's Poklonnaya Gora is completely deserted, which is not surprising given that it is not a residential area but a park commemorating World War II victims. That is why a group of masked young people sneaking into its grounds in the middle of the night are can't be spotted.
One stands guard, while the others gather around one of the monuments, get their tools out and begin to remove the sign from the monument. At first glance, one could take them for hooligans who want to vandalize the monument.
But that is only at first glance. Having taken down the sign, which has a spelling mistake in it, they take out from their bag an identical one, except for the mistake, and fix it back to where the old sign was. Next morning no one spots the difference.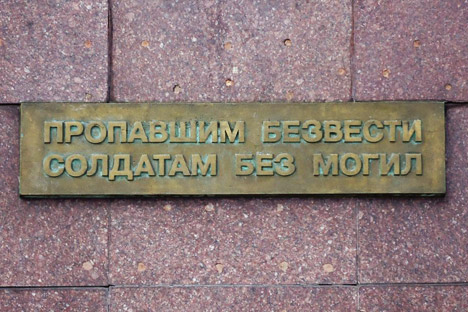 The monument to the World War II victims. Source: Press Photo
At least, the group of Moscow-based activists on a mission to correct spelling and grammar mistakes in the city hoped not
Several months ago, the same group carried out a raid on the streets of Vladimir, an old town 115 miles from Moscow, correcting some 40 mistakes there. They also agreed to cooperate with a local Russian Language Service, which is a public organization providing consulting services for students and linguists.
Over the past several months, the group has accumulated several thousand subscribers on Vkontakte. Numerous volunteers send them reports of spelling and grammar mistakes spotted in public places.
"It is all the same to us where a mistake is made. It can be something written on a fence or a sign in a window shop, in which case we correct it ourselves. Or it can be in an advertising banner or a sign on a building, in which case we write an official letter to the relevant people," said Pyotr, a first-year arts and humanities student at a Moscow university. "As a rule, people react to our letters fairly quickly and correct the mistake."
Pyotr refused to give his last name or to identify any other members of the group. He only said that one of them is a Russian teacher working at a Moscow school. It was she who came up with the idea to set up the spelling police, and there are her past and present students among the members.
"If you view the world as a text, as suggested by French thinker Jacques Derrida, then by correcting seemingly minor mistakes we are changing the world," Pyotr said.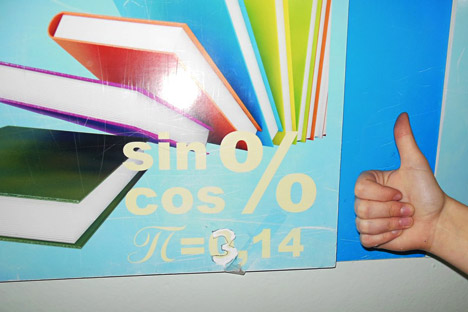 The corrected PI. Source: Press Photo
This idea of comprehensive proofreading fits very well with the so-called theory of small deeds, a concept put forward by late 19th century Russian revolutionaries as an attempt to improve life not through a revolution but through a chain of consistent "small" social changes.
This is exactly what this is about: a small deed (a group of students correcting spelling mistakes), which – judging by the current level of volunteer involvement and the group's exponential growth on social networks – is changing the life of a whole country.
A fertile ground for this project was prepared back in the early 2000s, with the arrival on the Russian Internet scene of the so-called "padonki" movement. It comprised young people who ignored grammar rules and used phonetic spelling of the Russian language.
Learn Russian with us:

They created texts of differing levels of literary complexity, from random exchanges on Internet forums to short stories and poetry, totally ignoring spelling and grammar rules. As a backlash against them, there emerged the so-called Grammar Nazi, people who strongly object to every minor mistake.
While Internet padonki ridiculed grammar rules, Grammar Nazi ridiculed those who make mistakes, poking fun at them and exchanging information about horrible offenders who dared to misspell a word or two.
However, apart from attempts to harass on the Internet those who write ungrammatically, grammar nazi did and still do not do anything else. Unlike the spelling police, who have managed to channel this energy into something constructive.
The group first began on February 23, 2013, on Russian Army Day and has lasted for nearly a year now. The activists were walking in the Poklonnaya Gora park and saw a monument with a sign that had a spelling mistake in it. It was then that the idea of a "secret spelling police" first came to them.
They began to think of how to correct that mistake and wrote numerous letters to various official addresses: the administration of the Poklonnaya Gora museum, the Moscow city government, the Cultural Heritage Department, the Moscow architecture committee, the Culture Department of the city Moscow.
The Culture Department advised them to write to the Russian Culture Ministry, which ignored their appeal altogether. The Cultural Heritage Department said it would look into the matter in 2015. "I am now reading Jonathan Lynn's satirical book 'Yes, Prime Minister,' which cites various bureaucratic phrases for saying no.
For instance: 'In order to consider this issue, paperwork needs to be thoroughly prepared, therefore it is necessary to set up an interdepartmental commission to study the matter'," Pyotr said with a smile.
Then the activists turned to the media and the spelling mistake on the war memorial was reported in the press. After that, a representative of the Russian Military History Society wrote to them, saying the society had funds to allocate to have the sign corrected, while the Moscow Cultural Heritage Department was prepared to do the necessary work for the amount of money available (some $5,000).
However, in order to transfer the money from one organization to the other, a special project had to be set up. Thus endless red tape began and no progress has been made since mid-October 2013.
"We shall very soon present them with a three-page document outlining the project for making the necessary correction and I hope it will work. Otherwise, we shall raise the money ourselves, order a new sign and replace the old one in secret. Because it is simply impossible to stand it any longer," Pyotr said.
All rights reserved by Rossiyskaya Gazeta.