Russia's embattled Dozhd TV vows to stay on air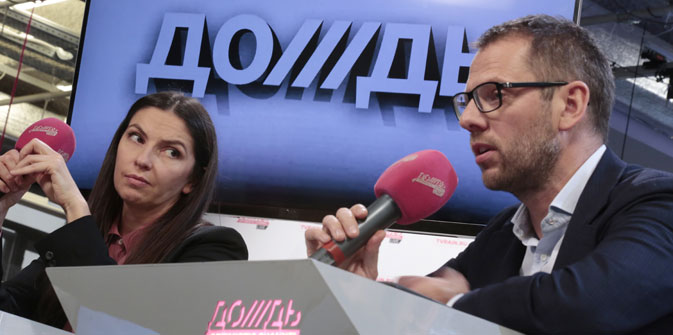 'We are going to carry on exactly as before, according to the same schedule, and we are not planning any layoffs.' Source: RIA Novosti
The channel's management has confirmed that Dozhd TV will continue broadcasting, despite the negative publicity generated by a recent scandal over a survey about the Siege of Leningrad, which resulted in a number of Russian cable providers dropping the channel.
Russia's biggest cable providers are dropping Dozhd TV from their packages. Nevertheless, the channel's CEO Natalya Sindeyeva says Dozhd will stay in business and has no intention of changing its content. She did recognize, however, that the channel urgently needs to restore its reputation with the viewers.
On January 26 the Dozhd TV website ran a survey asking whether the besieged city of Leningrad (as Russia's second-biggest city St. Petersburg was then known), should have been surrendered to the Nazis during World War II in order to save the lives of its citizens - hundreds of thousands of whom subsequently died of famine in the blockaded city.
The survey triggered a furious debate and was roundly condemned by many Russians, prompting the channel to issue an apology and admit that asking such a question had been a mistake. Many cable TV providers also expressed their outrage. Local council members in St Petersburg asked the prosecutor's office to intervene and punish Dozhd TV. A few days later, Rostelecom and several other large cable TV providers dropped Dozhd from their packages. The Presidential Council for Human Rights responded by asking the Prosecutor General's Office to look into the legality of the move by cable TV companies, arguing that they have "resorted to censorship in the mass media, which is a clear breach of the Russian Constitution."
Dozhd vows to fight on
The TV channel recently held a press conference to calm the row and explain its position. "When one cable provider drops us, then another, and then yet another, we realize that we are being pressed into shutting down the whole operation," Dozhd TV CEO Natalya Sindeyeva said. "But we have no intention of doing that. We are going to carry on exactly as before, according to the same schedule, and we are not planning any layoffs." She added that the channel had a history of coping with difficult situations. "We have faced problems throughout our history. There were difficulties during the early days, when our signal was switched off in some markets. Cable TV operators were getting similar phone calls, and we were being dropped by the few remaining providers that still carried us. But after a while, we would always return."
Sindeyeva says the channel is now trying to use new commercial strategies to survive through the latest difficult period. "We are shifting our emphasis in terms of advertising from TV to online. We are also stepping up our presence on other platforms. In a few weeks' time we'll be available on Smart TV, and our application for Apple TV is ready for prime time."
Alexander Vinokurov, who owns Dozhd TV, says the channel may follow in the footsteps of CNN by turning to a standalone subscription model. "In 2014 we expect to earn a quarter of our revenues by selling content to cable TV providers. If most of the providers drop us, the channel will have to close," the businessman said. "We have made a public offer to the providers; we are ready to give them our content free of charge. We will continue negotiating with them until they restore us to their packages." Dozhd's management has made an official offer to Russian cable TV providers to the effect that they can carry the channel's signal free of charge for the rest of 2014.
Reputation first, access to viewers later
Meanwhile, Rostelecom representative Valery Kostarev has said that the company is ready to discuss resuming cooperation with Dozhd TV if the channel can rebuild its reputation.
Vinokurov has said, meanwhile, that the number of paying customers who have subscribed to Dozhd via its website has tripled since the scandal broke out. "We have carriage agreements with 273 cable operators. Out of that figure, 252 continue to carry us, but the largest ones have dropped us. Before that happened, 14 million households watched us."
Commenting on the future of the channel's relations with cable operators, Vinokurov said Dozhd's lawyers were preparing legal action against those operators that have dropped the channel. He added, however, that no final decision had been made as to whether to take these companies to court. "We will try to get some kind of compensation for breach of contract from the operators, but this is not our main goal," he explained.
Russian ombudsman Vladimir Lukin and the head of the Presidential Council for Human Rights (SPRFPCh), Mikhail Fedotov, have called for an inquiry into the decision by cable operators to drop Dozhd TV. They argue that the move smacks of a cartel agreement. Fedotov has also said that the SPRFPCh has asked Interior Minister Vladimir Kolokoltsev to launch a pre-investigation procedure again the cable companies.
Meanwhile, opposition activist Alexei Navalny has also said that the cable operators that have dropped Dozhd will face legal action. The Society for the Protection of Consumers' Rights, which is part of Navalny's Anti-Corruption Foundation, will sue the operators on behalf of the consumers whose rights have been breached by their decision.
This article is based on reports by Gazeta.ru and RIA-Novosti.
All rights reserved by Rossiyskaya Gazeta.