Service with a smile: Sochi brings a breath of fresh air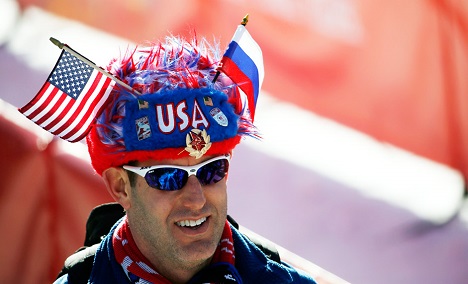 An American fan enjoying the proceedings at Sochi. Source: Reuters
Despite teething troubles over the last week, the Sochi Olympics have already shown that Russia is determined to present a new face to the world. And nowhere is this more evident than in the attitudes of those working in the Olympic hotels.
Visitors to Sochi were promised a view of a new Russia – and despite the Twitter storm of the past week, that promise has been delivered.
It's easy to be cynical about that: from exponential budget growth to a frantic finish to the Olympic development, there's no shortage of sitting ducks to come into the sights of satirists worldwide. But the key difference, at least for those who have spent time in Russia before, is a refreshing change in attitude.
Let's start at the airport. Typically, arrival in a Russian provincial city is a grey, intimidating affair; here the whole process, from touching down to sitting on my onward bus took 45 painless minutes. The accreditation issue was handed efficiently, and the luggage carousel was already chugging around by the time that was finished. Instead of scowling uniformed staff, colourfully clad volunteers rushed around looking for people to assist – and if they had a chance to assist in a language other than Russian that was even more satisfying. The soft-drink sponsored chorus line may need to rethink its chant of 'Welcome to Sochi! We're pleased to see you ochen!', but the effect was rather charming.
It's a similar story at the hotel. Not because it's ready and works more or less as expected, but because when it doesn't work properly, people unflinchingly get into action with a smile and try to solve the problem. We were told there was no wine at dinner; further discussion and a winning smile helped uncover a couple of bottles of local white, served with a flourish by the duty manager for the evening.
A bigger issue – the complete failure of the Wi-Fi while several people were trying to file reports from the opening ceremony – was neatly resolved by a receptionist connecting people to the web via her iPhone. It's these little touches that underline the determination of so many people here to make the Games a success. Nobody wants visitors to leave with a bad impression of Sochi, or of Russia in general, and they are making a noticeable effort to keep guests happy during the inevitable teething troubles.
Of course it's not all perfect. My hotel experience doesn't gainsay the reports from elsewhere of stray dogs, non-existent rooms, undrinkable water and stained sheets. It may not be coincidence that we're in a hotel for delegates of sporting federations rather than a standard media spot. But the greatest problems are not really affecting foreign guests.
As usual, it's the volunteers – the same unfailingly cheerful crowd helping us to do our jobs – who are getting the rough end of the stick. A transport mix-up saw us on a volunteer transport after the ceremony, amid scenes which more closely resembled the last chopper out of Saigon than the sedate progress of the media shuttles. As we stood in the scrum while two overcrowded buses came and went, Sasha, a volunteer from Moscow, explained, half-joking: "That ceremony is for Putin – this is the real Russia!" Overworked, unpaid, and herded around like cattle, yet indispensable to the smooth running of the Games – it's not quite the same as a missing shower curtain in a hotel room.
Andy Potts is a sportswriter, who is attending the Sochi Games as part of the International Ice Hockey Federation.
All rights reserved by Rossiyskaya Gazeta.