Russian universities to change admission rules for foreign students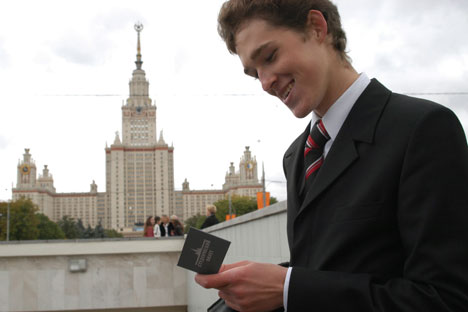 The Lomonosov Moscow State University is among the world's top 100 universities, according to Times Higher Education World Reputation Rankings. RIA Novosti / Tatiana Podoinitsyna.
Under a new set of academic guidelines international students will have to complete a foundation course comprising of Russian language and literature as well as mathematics
By the end of 2014, the Russian Education and Science Ministry is due to adopt a new list of academic requirements for foreigners who want to get a higher education in Russia. Now international applicants will have to spend a year learning Russian, mathematics and the key subjects in their chosen field in order to take entrance exams to their university of choice.
Foreign applicants wishing to enter Russian universities will be divided into several sets: humanities, natural sciences, medicine and biology, engineering, and economics. Each of the sets will comprise three mandatory and one specialist subject.
In addition, foreign applicants will study general-knowledge subjects, like Russian, math, or computer science. The list of subjects will be set depending on the discipline an applicant will be specializing in.
The Russian language course comprises basic knowledge of phonetics, syntax, punctuation. At the end of it, an applicant will have to have a vocabulary of at least 2,300 words, have adequate oral comprehension (at a speed of 200–240 words per minute) and read at a speed of 80–100 words per minute. Furthermore, they will have to be able to write an essay or produce a summary on a topic in their specialist field. "At the moment, there are no clear requirements when it comes to knowledge of Russian," vice-chancellor of the Plekhanov Russian University of Economics Viktor Grishin said. The academic said very basic requirements are applied at the moment.
At the end of the Russian literature course (forming part of the Russian course), an applicant will have to demonstrate knowledge of the Russian literature of the 18-19th centuries as well as biographies of great Russian authors: Pushkin, Lermontov, Turgenev, Gogol, Dostoevsky, Tolstoy, and Chekhov. They will have to be able to describe literary styles of various authors and be able to speak about their works and characters (two to three works by each author).
In mathematics, foreign applicants will have not only to learn how to make simple calculations but to be able to prove various theorems in Russian and work out basic formulas as well as to study the basics of mathematical analysis.
"All national education systems are different and it is necessary to relate their equivalent levels so as not to end up accepting a secondary school student to a university course of studies," pro-rector for international cooperation at the People's Friendship University of Russia Gulnana Krasnova said. "Each university will devise its own criteria in various disciplines. Russia has bilateral agreements with some countries on recognizing each others' education certificates but there is a host of countries that we do not have such agreements with."
There are about 250,000 foreign students from some 150 countries studying in Russia today. Over 40,000 of them receive higher education free of charge, with tuition fees paid for from the Russian budget. The largest number of foreign students comes from the former Soviet republics – Moldova, Tajikistan, Uzbekistan and Ukraine. Countries like Slovenia, Peru, China, Zambia, Syria and India also represented in Russian universities.
At the moment, international students make up 2.5 percent of all students in Russia. By 2015, the Education Ministry wants to raise this figure to 6 percent and by 2018, to 10 percent. "It is a good thing that the Education Ministry has decided to look into this issue and bring some order into it," says pro-rector at the Plekhanov Russian University of Economics, a member of the Russian Public Chamber, Sergey Markov. "It will not only improve the quality of education but will raise the profile of Russian education abroad."
It is not yet clear whether these regulations will affect students who are enrolled in courses where the medium of instruction is English.
According to the Education and Science Ministry's recommendations, international students should have 52 weeks of studies (one academic year) as a foundation program before they take entrance exams. These will include 38 weeks of classroom work, four weeks of exam sessions and 10 weeks of holidays.
Based on articles from Izvestia, Moskovsky Komsomolets and Radio Vesti
All rights reserved by Rossiyskaya Gazeta.