Russian media reacts to beating of Pussy Riot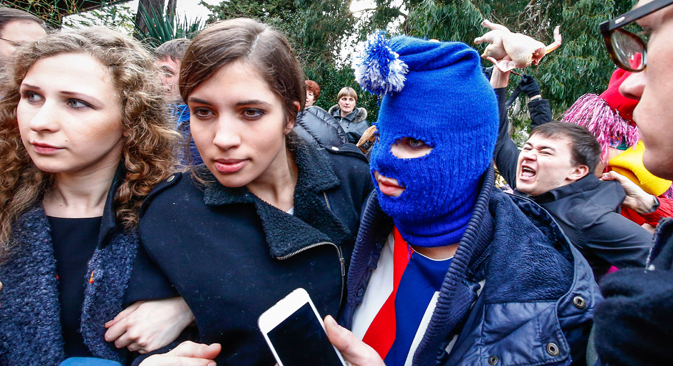 Even those who are no fans of Pussy Riot, say that ordinary citizens cannot use violence to force society to adhere to their rules. Source: Reuters
The Russian blogosphere erupts after a video of Cossacks attacking the members of Pussy Riot with whips went viral.
When members of the Russian punk band Pussy Riot appeared in Sochi this week to shoot a music video, they were apprehended and beaten by a Cossack patrol. A video clip of the incident went viral, resulting in an explosion of comments in the Russian blogosphere.
Russian media personalities on all sides of the political spectrum have spoken out about the incident, and almost no one has sided with the Cossacks. Even those who are no fans of Pussy Riot, say that ordinary citizens cannot use violence to force society to adhere to their rules.
It's worth noting, however, that most of the complaints were related to the fact that the Pussy Riot members are women rather than any discussion of freedom of speech or assembly.
Blogger Alexei Makarov argued that Cossacks are not police officers, and even if they help the police to patrol the streets, they have no right to beat people up. "Nobody should use violence against women," he wrote. Makarov added, however, that the Pussy Riot members were behaving in a provocative manner.
Meanwhile, Maxim Shevchenko, a conservative TV journalist who might have been expected to defend the pro-government Cossacks, says he is outraged by the incident. He said that he does not agree with Pussy Riot's stunts, but then goes on to say that what the Cossacks did was a disgrace for the whole country. "This shameful incident is an insult to every decent Cossack, every Russian, and every decent person. It goes completely against the spirit of the Olympics. Will those responsible escape scot-free?" Shevchenko wrote.
TV reporter Andrei Loshak condemned the violence against the women, but asked another important question: why did the journalists who filmed the incident keep silent during the beating? "I am astounded that not a single person tried to defend the girls, even if they had to put their professional duties aside for a moment in order to do that," Loshak said.
Source: YouTube
All rights reserved by Rossiyskaya Gazeta.