India, Russia to recognize each other's higher education diplomas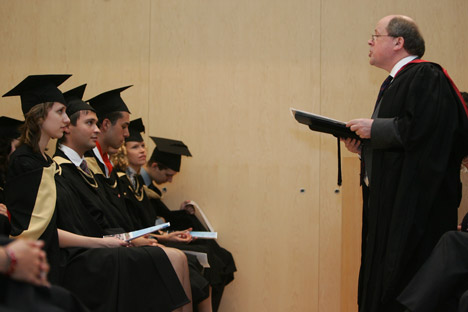 An agreement on the mutual recognition of higher education diplomas will help increase the influx of Indian students to Russia. Source: PhotoXPress
A formal agreement is ready and should be signed with a year, according to a senior Russian diplomat. Indian academicians believe this will make Russia a more attractive destination for Indian students.
In an attempt to increase educational and student exchanges, Russia and India will sign an agreement on the' mutual recognition of higher education diplomas,' a senior Russian diplomat told RIR. "The text of the agreement is ready and practically approved," said Sergey Karmalito, Senior Counselor at the Russian Embassy in India. "We are confident that we will sign it in a year."
Prof. Dr. A. Najeerul Ameen, President, All-India Foreign Medical Graduates Association, said he is confident that this step will help increase the influx of Indian students to Russia. "Every year, thousands of Indians come to study medicine," in Russia he recalled. "If an agreement on mutual recognition of diplomas is signed, their number may increase five times."
The Russian Centre of Science and Culture (RCSC) in New Delhi recently held a get-together of the Indian Graduates of Russian and Soviet Universities met to discuss the prospects of bilateral cooperation in education and to remember "their Golden Years" in Russia.
This annual get-together of Indian graduates of Soviet/Russian Universities is held annually across India, and about 500 people gather in New Delhi alone. Altogether, according to the latest estimates, 50,000 graduates live in India.
"After a reduction, in the 1990s, in the number of Indians who went to study in Russia, today there is an increase being observed," says Prof. Sankar Basu, President, Delhi Alumni Association of Soviet/Russian Academic Institutions (DAASAI). "It is very difficult to come back to level of the Soviet Union period, because the conditions were different back then – it was possible to learn for free and scholarships were paid. Even if we fail to reach that level, the number of students will still grow."
Over 200 people from all over India participated at the reunion. This reunion opened with an exhibition of Aakshat Sinha's paintings, poetry, installations and video clips titled These Golden Years. Sinha lived in Moscow for seven years, and he preserved his student ID card, Moscow metro tickets, Vysotsky CDs, a DVD of Sergey Bodrov's Brother about the turbulent 1990's, and dozens of other pieces of memorabilia.
All rights reserved by Rossiyskaya Gazeta.