Gun culture? More Russians seek firearms at home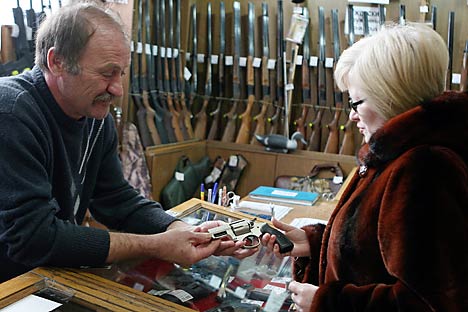 According to public opinion polls taken last year, 74 percent of Russians oppose the right to bear arms. Source: ITAR-TASS
A website set up to canvas public opinion about broader gun ownership rights has already received over 100,000 votes in favour of legal reform.
Russians are seeking the right to use firearms to protect their home and property. A proposal to introduce the relevant amendments to the Russian Criminal Code has been put up for a popular vote on a special website, garnering the support of more than 100,000 people. However, experts are divided on the prospects of adopting these amendments.
The public initiatives website was set up not long ago on an initiative from Russian President Vladimir Putin in order to collect feedback from the general public on draft laws and other significant proposals.
It is here that Russians were invited to vote for a provision whereby any actions committed in one's home for the sake of protecting one's property, and the life and wellbeing of one's family, would be treated as necessary self-defence. The initiative has been dubbed "My home is my castle", reports daily Moskovsky Komsomolets.
Currently, the notion of self-defence in the Russian Criminal Code covers only those cases when an individual defends their life or the life of a person who is being attacked, and for non-life threatening situations there is a presumption of guilt in relation to people who defend themselves and their valuable possessions with the use of weapons.
For example, in a case in which muggers try to snatch your handbag, your method of self-defence should be appropriate, i.e. you can hold on to your bag but not shoot the would-be thief. The same applies to thieves who have broken into your flat: If they do not threaten you with a gun, a rifle in your hands will be illegal.
"Amendments are proposed to this article to allow citizens to defend their home or a place of temporary residence immediately after unlawful entry. This does not mean that a person who has used arms or committed other actions will be automatically acquitted – each individual case will be considered separately. But at the same time, use of arms in incidents like these will be justified and an individual will be protected by the state," said Maria Butina, head of the Right to Arms movement, explaining the proposed amendments put forward for a public debate.
"The future of this initiative now depends on more active involvement from civil society, on further work at the expert level and on effective cooperation with lawmakers," explained Public Chamber member Dmitry Galochkin.
"We understand that not all initiatives that get 100,000 votes may reach parliament. This initiative is outside politics and unites representatives of different political forces and views. We would like it to be supported by members of different parliamentary parties and as many deputies as possible."
Experts, however, are not convinced that the initiative has good prospects.
The director of the Centre for Legal and Psychological Assistance in Emergencies, forensic psychiatrist Mikhail Vinogradov, is convinced that there are enough deputies in the State Duma to latch onto this high-profile topic and adopt the document.
"I am in favour of allowing Russians to possess firearms to protect themselves and their property," he said. At the same time, Vinogradov pointed out that the law legalizing the use of firearms could be adopted only after the problem of corruption has been successfully addressed in Russia, i.e. when it is not possible to easily obtain a gun in exchange for a bribe.
"It is important that every person who gets a firearms license is well-trained, knows how to use firearms and is mentally stable. If, however, through corrupt practices, firearms end up in the wrong hands, it is difficult to predict what would happen. There are quite a lot of crooks around who will assist anybody who wants to buy an air gun," Vinogradov said.
For his part, a Moscow city duma member, the chairman of the Alpha anti-terror unit's veterans association, Sergei Goncharov, said that the draft law does not have a future and may be harmful for Russian society.
"The authors of this initiative rely on the American model, according to which a person can be shot for violating property boundaries and the property owner will always be in the right. In our situation, this principle will not work," he said.
Goncharov cited the legalization of air guns in Russia in 1993, which though enacted in the hope that the population would be able to defend themselves from criminals, did not foresee the possibility of the arms being used as assault weapons.
"Air guns and gas pistols are widely used now in domestic disputes or road rage incidents. I don't think Russians should be given the right to protect their property with firearms. The current provisions in the Criminal Code are quite sufficient," he said.
All rights reserved by Rossiyskaya Gazeta.