Gift-giving supersedes the pursuit of equal rights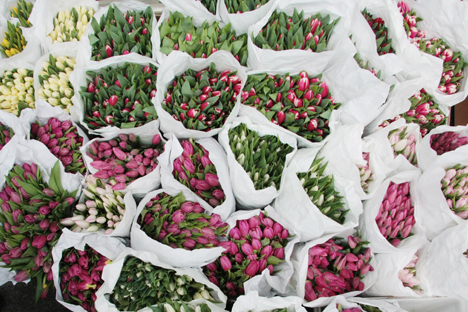 The political and historical associations that International Women's Day (IWD) usually conjures faded in Russia long ago.
They faded to such a degree, in fact, that for more than half a century, March 8 in Russia has been a day when women are given flowers and other gifts by the men in their life – not unlike Valentine's Day.
The gift-giving tradition of Russian Women's Day is so entrenched and considered so important that the Levada Centre (one of Russia's biggest and most reliable independent pollsters) has been conducting surveys on March 8 gift-giving trends and preferences since 1997. The conclusion is that on IWD, Russian women want to be given gifts, and nearly half prefer to receive flowers.
Some 54 per cent of the men who took part in a 2012 survey said they would give the women in their lives flowers on March 8, and 45 per cent of the women polled said they would be "very happy" to receive them. Little has changed since the late '90s, it seems, when the same figures stood at 41 and 37 per cent respectively.
The second most-popular gift-category today is cosmetics and perfume, followed by chocolates, jewellery and being taken out to a restaurant or the theatre.
Vox Pop: Gifts for International Women's Day. Source: RBTH
All rights reserved by Rossiyskaya Gazeta.